COVID-19 update: selected stores reopening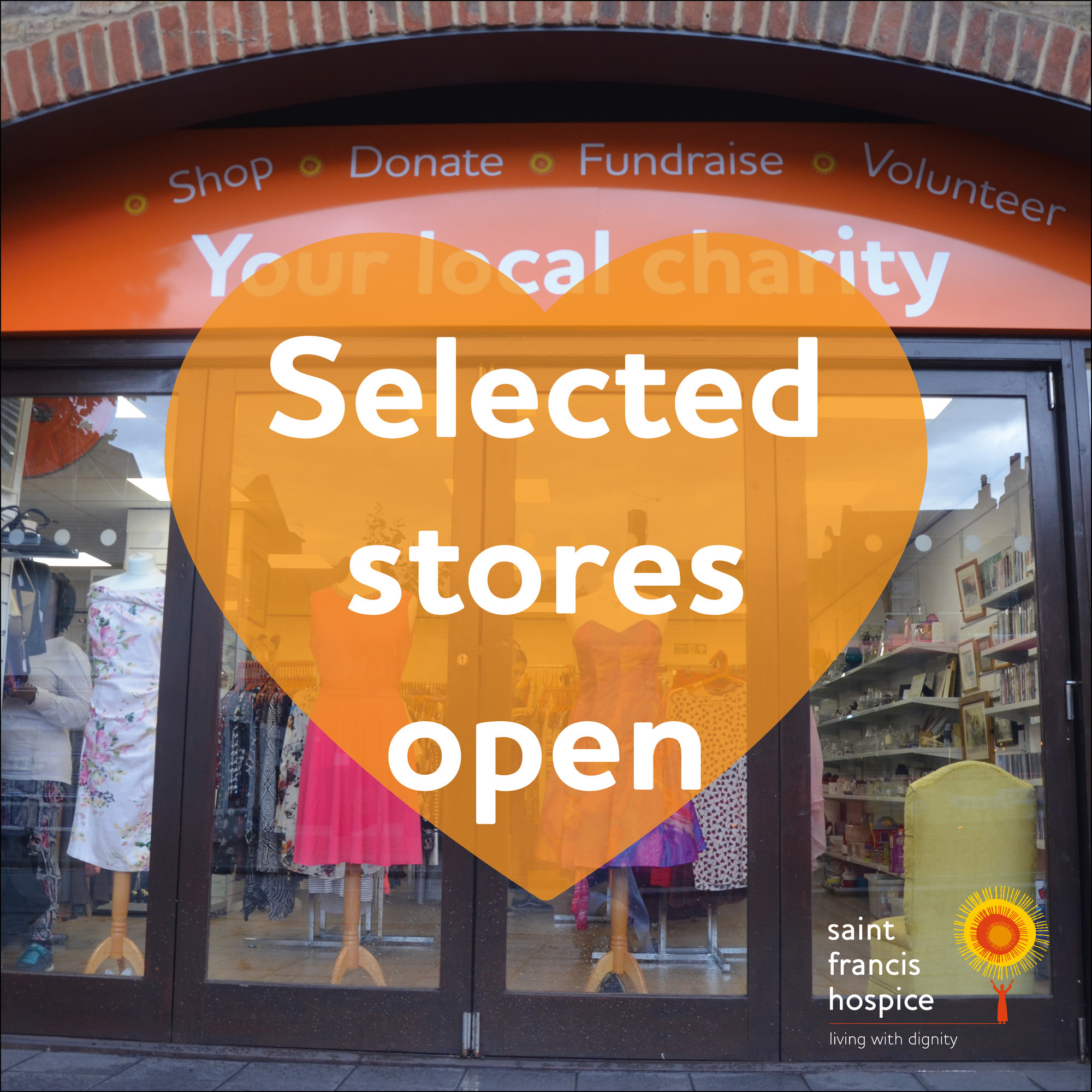 Thank you to all of our supporters for your kind donations - please see the list of open stores below. We do have dedicated donation stations but the open days and hours are subject to change. Once we reach our quota we will follow government guidelines to quarantine donations for 72 hours to help us sort and work in a safe way. Thank you for your understanding.
*UPDATED 9 JULY 2020*
Here is the updated schedule for stores and donation stations:
Romford South Street general store is open to shoppers and for donations
Harold Hill general store will reopen to shoppers and for donations
Romford electrical store has reopened as a donation station
13th July
Ashton Gate warehouse will reopen at 10am
Harold Hill furniture store will reopen as a donation station at 10am
Dagenham general store will reopen at 10am
Store locations and addresses can be found here.
The opening hours will be:
Warehouse:
Monday - Friday 10am-4pm. Due to COVID-19 guidance we are quarantining all donations for 72 hours. We may close early if our daily quota is reached.

Shops:
Monday - Saturday 9am-5pm. But, times may vary so please bear with us. You can check this page on our website for updated store opening times or call 01708 376269.
First and foremost: keeping people safe

Saint Francis Hospice's Retail team has worked hard to ensure that customers, staff and volunteers can be as safe as possible in the shops. We've carried out risk assessments and put processes in place to ensure everyone stays safe.

This includes providing PPE for staff and volunteers, installing safety screens at the tills and limiting the flow of customers into the shops at one time. We are also following the 2m social distancing rules inside the stores and queuing outside.
Donations

All donated stock will be carefully quarantined for 72 hours in line with government guidelines before being sorted for sale, so we need to closely manage our intake of donations.

Therefore, on some days, we may need to close our donation stations early, please bear with us. You can call 01708 376269 to check times or check this web page for updates.

Unfortunately we are not able to accept donations of commodes, crash or bicycle helmets, baby or child car seats.
Please do not leave donations outside any of our shops when they are not open as this means we will not be able to sell your generous donations.
Generating vital funds

Saint Francis Hospice serves the growing populations of Havering, Brentwood, Barking and Dagenham, Redbridge and West Essex and, with only 23% of funding coming from the government, the hospice needs to raise £7.8 million in voluntary income this year.
The income that is raised from your generous donations means they can continue their vital role in supporting people in their communities. During these difficult times, we need your donations now, more than ever.

Michelle Nicholls, Director of Retail & Trading for Saint Francis Hospice said:

"The coronavirus pandemic has had a huge impact on all our lives especially our Hospice so we are really happy to announce that our first shop will open after this very difficult time on the 29th June in Romford.

We have missed our customers and the volunteers that have supported us at Saint Francis Hospice and will trade as safe as we can and ask that customers follow the advice and guidance within our shops.

Our E- commerce team will be back on the 29th June you can support us by buying online - please see our website for details.
Thanks to all our customers in advance - we look forward to welcoming you back into store and your support for our Hospice."