Gemma's back in the loop
Having lived with cerebral palsy since birth, Gemma Bailey admits that her condition has made securing long-term employment a challenge.
19-12-2019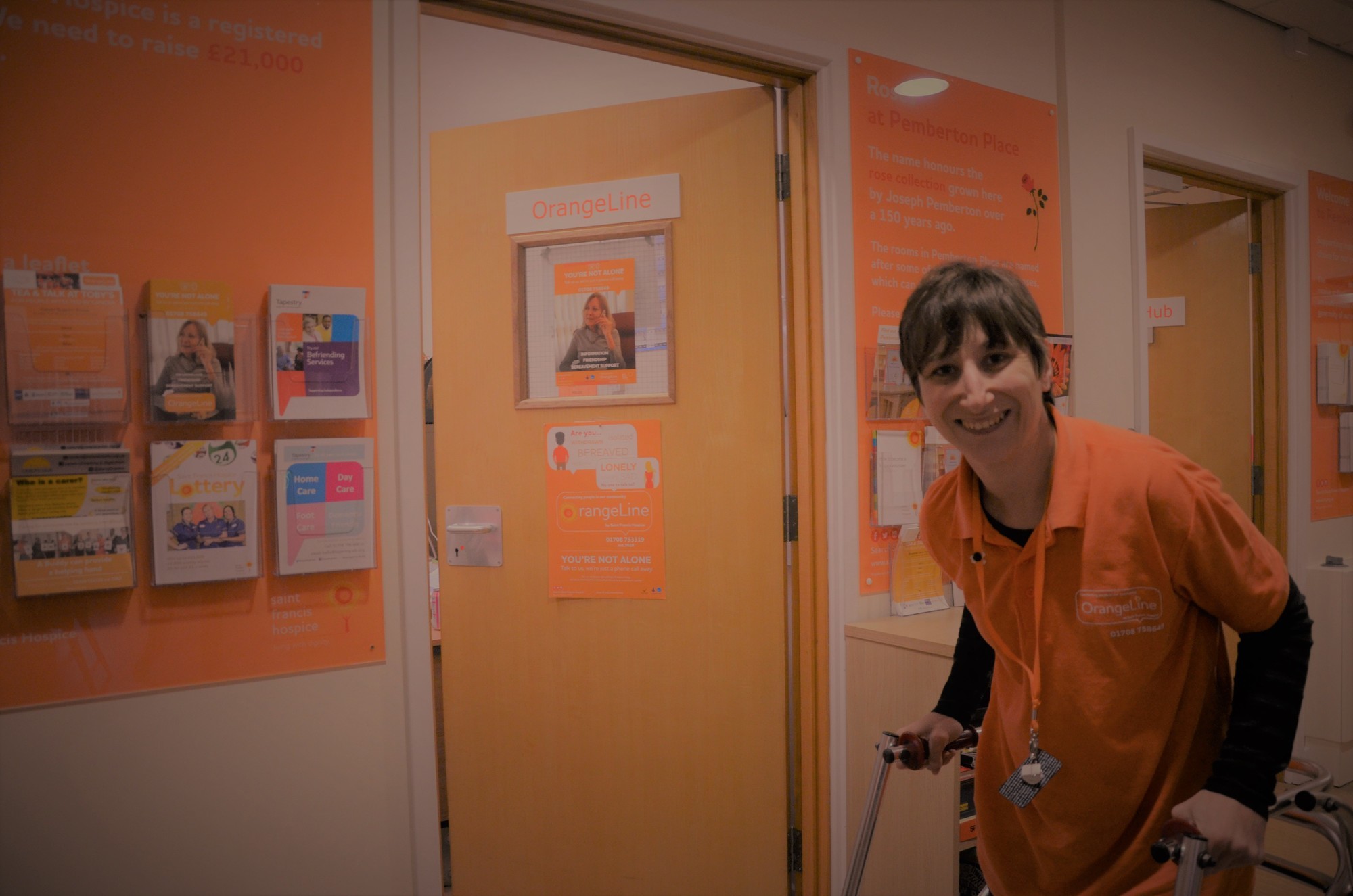 Travelling into London and being on her feet all day are out of the question. Yet there are more things Gemma can do than can't. Luckily for everyone here at Saint Francis Hospice, one of those is volunteering. Gemma has been giving her time to OrangeLine since its launch in 2016. It's our confidential helpline for local people to make new connections, start new friendships, and receive guidance and information.
If you're feeling alone, isolated, or are in need friendly conversation, Gemma is here to lend a listening ear. Gemma explained how being stuck at home took a toll on her mental health and put a strain on conversations with her family.
"I felt out of the loop," she recalled. "My family would ask me what I've been up to, and the only thing I could say is that I've been watching TV. Now, I tell them about the Hospice, and it puts a spring in my step.
"A lot of people ask me how I can work in what they assume is a sombre place, but it's not like that at all. The Hospice is an incredibly happy place, and there's always laughter here.
"I get so much fulfilment from helping people, and the Hospice provides such amazing care. Volunteering is my little way of doing what I can to help."
Gemma has never let her condition hold her back, and her motto has always been: 'See the person first, not the disability.' She'd like to see a change in how employers view potential employees in her situation:
"Rather than: 'Gemma has a disability, what could she possibly do to help?' I'd like to hear: 'She has a disability, but so what?'
On OrangeLine, Gemma talks to people of all ages and from all walks of life. She claims that the most fulfilling part of her job is hearing the words 'Thank you for listening.'
"Some people tell me that they don't know where they would be without OrangeLine," she said.
Gemma also pens condolence cards to families. She's always sure to take care in writing them, learn about the person who passed away, and make the messages personalised:
"I hope that every card I write can lift someone — even if they are going through an incredibly sad time."
Gemma is still looking for full-time employment. "I want to work, I can work, and I know I can do a great job," she declared. Until then, she will continue to be such a tremendous asset to our Hospice, making a difference to the lives of people who need it the most.
While some of the conversations Gemma has on OrangeLine tug on her heartstrings, she revealed that she wouldn't be very good at her job if she didn't occasionally get emotional. Our Hospice supports Gemma during those times. Gemma has some simple advice for anyone considering volunteering on OrangeLine:
"Do it. It'll be the best thing you could ever do."
If you're a good listener, have a caring nature, and would like to find out more about how you can help bereaved, lonely, and isolated people in your local boroughs, please email volunteering@sfh.org.uk or call 01708 758614.