London to Paris Cycle
7th June 2023 |

Cycling from London to Paris is one of the great cycle experiences in Europe. After passing through picturesque English countryside, we cross the Channel at Dover and continue through the small villages and medieval market towns of Northern France.
With long days in the saddle and some strenuous hill-climbs, the sight of the Eiffel Tower, our finishing point, will evoke a real sense of achievement.
After completing this incredible challenge, our last day in Paris allows us to explore the sights and soak up the romantic atmosphere of this majestic city!
For more information about the challenge, please click here.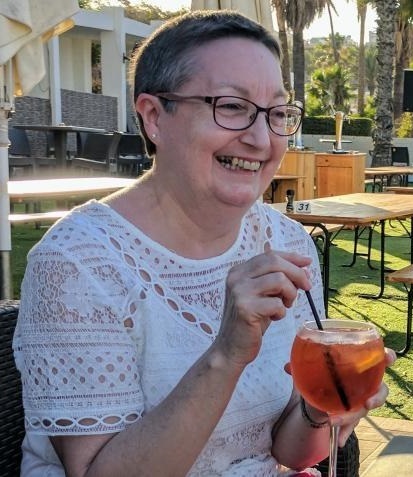 Cycle from London to Paris and help people like Shirley
Shirley's cousin, Neil, cycled 1000km in June 2020 to raise money for Saint Francis Hospice, who cared for her before she died.
Her brother, Mervyn, said, "We had no experience of looking after someone with a critical illness and made it up as we went along. Saint Francis Hospice stepped in to fill that void, which is what we desperately needed.
"The conversations about Shirley's care were friendly rather than clinical. I could go back to being her brother again rather than her carer. Everyone was magnificent."
Your support makes all the difference
could pay for 24 hours of care for one of our patients on our ward
could pay to keep all Hospice services running for one more hour
could pay for supplies for the Hospice at Home team for a year
Day 1: London to Dover (approx. 85 miles)
We start by passing through the outskirts of London onto quieter roads and it's not long before we are among the rolling fields and villages of rural Kent, passing orchards and traditional oast houses where hops are stored. We follow country roads across the hills of the North Downs to Dover and the coast. Taking the ferry to Calais, we have dinner on board and cycle the short distance to our hotel. (Dinner on ferry not included)
Day 2: Dunkirk to Cambrai (approx. 100 miles)
With a long day of cycling ahead of us, we head south from Dunkirk, riding roughly parallel to the Belgian border. The area we pass through saw a great deal of action in WW1 and many road-names in towns and villages testify to the history. Our afternoon is predominantly flat as we ride southeast, though a few hills await us before Cambrai, a town which dates back to Roman times.
Day 3: Cambrai to Soissons (approx. 70 miles)
Today is a shorter, but more hilly ride, as we cross beautiful rolling landscapes, where fields of crops stretch for miles. For the first part of the day we pass small war cemeteries and are rewarded with a great view of the River Somme, reminding us of events a century ago. The last section of our route runs through an area involved in the WW1 Battles of the Aisne.
Day 4: Soissons - Paris (approx. 75 miles)
As our last day of cycling begins, we cycle southwest. There are some short sharp climbs in the morning, before we reach busier roads. As we cycle through the Parisian streets we look out for distinctive landmarks, feeling excited at being this close to our goal! Then we sweep around the Arc de Triomphe and down the famed Champs-Elysées to our finish beneath the lofty arches of the Eiffel Tower. We head to our hotel and get ready for a final meal together as a group to mark our achievement.
Day 5: Paris to London
You are free to explore Paris at your leisure on day 5. The Eurostar back to St. Pancras will leave late afternoon and, once back in London, we will be reunited with our bikes. (Lunch and dinner not included)
Registration fee and fundraising target
Registration for this once in a lifetime cycle is £99 and participants pledge to raise a minimum of £1,650 in sponsorship. A self-funded option is available for £99 registration and £825 trip costs (due 8 weeks before the event).
All transport from London to Paris return (by ferry and Eurostar)
All meals except where specified and accommodation on a twin share basis
Discover Adventure leaders, mechanics and drivers
Full vehicle support throughout the trip
Route information
Any meals specified 'not included' in the itinerary
Travel insurance
Bicycle
Cycle helmet (compulsory) and water bottles
Optional Discover Adventure bike courier return service
Personal spending money, souvenirs and drinks
Any applicable surcharges as per Terms and Conditions
By signing up to this event you are agreeing to the Terms and Conditions set out by Discover Adventure which are available by clicking here. By signing up you are agreeing to raise the full sponsorship 10 weeks prior to the challenge.
In light of the current Covid-19 situation, please be aware that this event may be postponed to a later date.
You might also be interested in
Fitness,cycling
London to Paris Cycle
Cycling from London to Paris is one of the great cycle experiences in Europe. After passing through picturesque English countryside, we cross the Channel at Dover and continue through the small villages and medieval market towns of Northern France.
London ExCel Centre
Fitness,cycling,running,swimming
London Triathlon
Take on one of the best triathlons in the UK race calendar.
Horton-in-Ribblehead
fitness,walking
Yorkshire Three Peaks
Take on the ultimate hiking challenge - reach all three of Yorkshire's highest peaks in just one day!
North London Skydive Centre
Fitness
Skydive
Are you after a hair-raising, adrenaline-fuelled challenge? Why not push the boundaries and take to the skies to support your local Hospice?