Bereavement Support - My work at Saint Francis Hospice is all about relationship
My work at Saint Francis Hospice is all about relationship - A therapeutic relationship between myself and one of our patients, a family member, both together or at times the whole family.
05-05-2020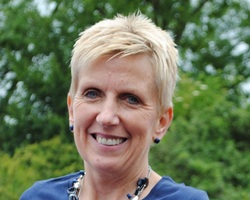 Relationships can begin at diagnosis or further into someone's journey with a life limiting illness and I see people at home or here at the Hospice.
Each Wednesday and Friday in Pemberton Place (where our patients socialise), I may be called upon to counsel someone who perhaps needs that immediate response to a personal crisis or event.
I am available also to the ward where someone has requested a referral for psychological support.
Bereavement support is a passion of mine, to give a space to those who grieve and want to speak and share memories of their special person.
My work also includes facilitation of groups with my family support team members such as writing in bereavement, the hope programme, walking group and our evening bereavement group and more.
The Corona virus has affected my work and how I support people.
Firstly no groups, we attempted (well our secretary June did) to call as many people to let them know that these were cancelled till further notice.
Face to face work became telephone support.
Again I rang the people I counsel to explain that I would make an appointment as usual for the next call....I spent 2 days in the office to organise this.
Things have happened, things have changed
Appointments cancelled rearranged
By phone this time, not face to face
No body language, see your face
Then, I too had the virus, I felt like a sledge hammer had hit me. June rang the people I have been supporting and they were aware I was unwell.
The kindness shown within these calls was overwhelming, these relationships mean so much and are very precious.
After a week, following the 7 days guidance, and when I was okay to, I started calling again.
Tuning into what is said, from my 3 week Covid bed
Your voice is wonderful to hear
You speak of all that you hold dear.
My thoughts are with the bereaved, those in pain, those who are isolated, lonely, scared.
Those who are facing the loss of their loved one.
Within my work I have been encouraging people to write their thoughts and feelings into a journal or note pad.
This can help you off load anger, frustration of anything that might be ruminating in your thoughts.
You could journal what sort of day it is? How you are feeling? Use your senses.
What's the weather like, from your garden or any space, what do you see, smell, hear?
To meet again will not be long
I'l keep in touch, don't get me wrong
But seeing you I will rejoice
To listen, smile and hear your voice
Saint Francis Hospice is a very special place to work. The Staff and volunteers are its beating heart.