Corneal donation and the gift of sight
One of the greatest pleasures of my work at the Hospice is my work with the tissue donation group.
04-03-2021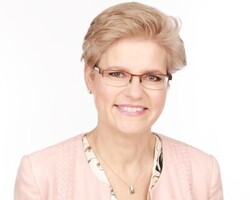 Our previous registrar, Rory Carrigan, had developed great foundations for a successful corneal donation programme and I picked up his baton when he left.
We are now one of the most active (if not THE most active) palliative care services in the country, raising routinely discussions about organ and tissue donations with our patients.
And possibly even more importantly, raising awareness within their families and, hopefully, the wider society.
We only focus on donations of the eyes, as these can be retrieved up to 24 hours following the death; in the patient's home, at the undertaker or in the inpatient unit.
The outer lining of a single eye (the cornea) can help up to 5 children and adults to gain the gift of sight again.
This knowledge that something positive can come out of this often, untimely death and suffering, can help the bereaved families immensely in their grief.
We are now widening our education and encouragement to donate beyond the inpatient unit into the community.
Our Hospice at Home service is following a positive decision beyond discharge from IPU and I am reaching out to local funeral directors who are excited about this project.
There is a significant shortage of corneal donations, made worse by the current pandemic (nobody can donate the eyes within a month of a positive covid infection).
This had an impact on our retrieval rates as well, but we are eagerly awaiting our next donation to the service.
We will then have 100 patients who, through discussions at the hospice, have helped others to see the world again with this generous gift.
Please find below two links with more information.
One is a beautiful poem @the Gift of Sight' that has been created for National Storytelling Week https://youtu.be/K_BrsXohhTI.
The other is a webinar with more information by Gail Mander, our link to the national Tissue and Eye Services.
https://www.rcn.org.uk/get- involved/forums/critical-care-and-flight-nursing-forum/flight-nursing-webinars