"If you're thinking about holding a coffee morning, please choose us, go orange and go local"
I will never forget my last day in the office before we all went into lockdown.
01-10-2020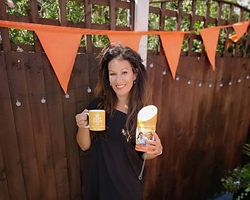 It was a cold day in late March and I remember feeling a sense of disbelief. Surely we'd all be back at our desks in a matter of weeks. But it was almost five months later, in August, when I was able to safely return to my desk to collect some belongings. It was surreal to see my calendar still on the month of March and my empty coffee cup and notepad just as I'd last left it.
It was the start of the summer holidays when I was called up to return to work from home, and with two small children, it was challenging at first adapting to a completely new way of working and taking on an exciting new role as Marketing Campaigns Manager but it didn't take long to settle back in and I was quickly reminded of why I love working for Saint Francis Hospice.
My job is so rewarding. I love coming up with ideas and new ways to bring in vital funds and then making them happen. One of the campaigns I am managing is the Cuppa for Care product. It is such an easy way for people to support us. Cuppa for Care can be anything you want it to be. From a coffee morning, an afternoon tea in the garden, or even a virtual get-together with a bake-off or game of bingo via Zoom.
With the new rule of six brought in to place of late, there are still so many ways our supporters can fundraise successfully and safely. Perhaps groups of six could hold their own Cuppa for Cuppa and encourage their friends and family to do the same and combine the fundraising. Raising money virtually can be equally as fun and there are no limits on numbers!
We have a great team on hand ready to offer fundraising tips, raffle tickets or game cards to help maximise on your fundraising efforts.
Cuppa for Care is a lovely way of getting people together to remember a loved one who may have been cared for by the hospice. It could be the anniversary of their death or their birthday perhaps. But you don't need to have a link to the hospice to get involved!
Like most charities, Saint Francis Hospice has been hit hard this year and we really need the support to keep on providing outstanding care. So if you're thinking about holding a coffee morning, please choose us, go orange and go local.
To host your own Cuppa for Care please call 01708 771427, email community@sfh.org.uk,or sign up at www.sfh.org.uk/cuppa-for-care