London Marathon 2019 - Serene and Kelly's story
Kelly is a civil servant and her partner Serene works as a Sky engineer. They live in Romford and are running the London Marathon together on Sunday, April 28.
Here Kelly shares their inspirational story about why they've taken up the iconic 26.2 mile challenge........
22-01-2019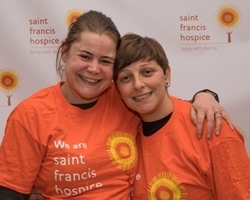 On the 31st December 2016 we got married and it was the best day of our lives. But 3 weeks later we had some devastating news which set to change everything.
Serene had been suffering from back pains which doctors had put down to her manual work.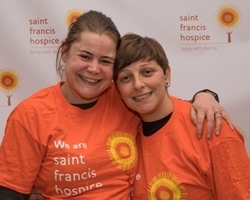 Eventually she was sent for a scan and we were asked to come in to discuss the results the next day.
We were informed that Serene had secondary breast cancer which had spread to her spine and that a tumour was pushing on her spinal cord.
We were also told at this point that her illness was terminal.
We were young, just married and excited for our future together and this news was not part of the plan!
Serene went into hospital and had part of her spine removed and replaced with metal rods.
For the first 6 weeks she was not allowed to carry anything heavier than a jug of water.
Being the amazing, inspirational person, she is, Serene has worked hard to get back to normal life.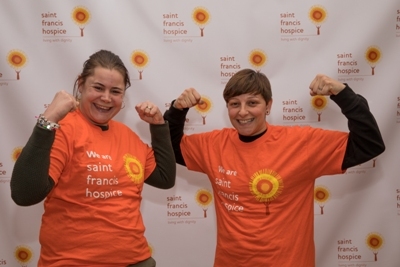 Serene is back to full strength and has even gone back to work.
She is on daily medication and regularly has scans so that her illness can be monitored.
As part of her palliative care we were referred to Saint Francis Hospice.
Going to visit the Hospice for the first time was surreal and daunting but from the minute we stepped through the front door we have felt nothing but support, care and positivity from all the staff.
Serene has had some alternative therapies at Saint Francis Hospice and regularly get calls just to check in and see how things are going.
Staff have always made it clear to Kelly the importance of having support for those who are friends and family of someone with a terminal illness and is grateful to have a support network at Saint Francis Hospice.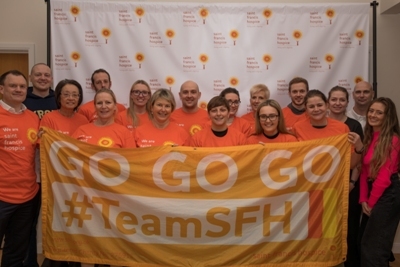 We have both started raising money for Saint Francis as we couldn't imagine what it would be like to go through such a traumatic experience without having the support that we have been given by this amazing charity.
The London Marathon is something that Serene has always wanted to do and is what you might call 'on the bucket list'.
Life is too short to put these things off and we absolutely had to sign up and do it to raise money for the charity.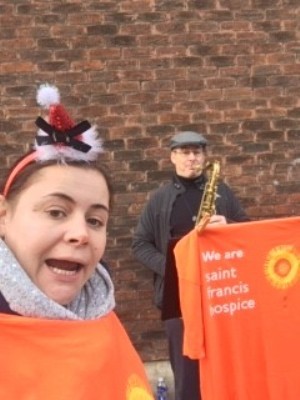 Serene has never run a marathon before and is really excited but also slightly terrified at doing it.
I ran the London Marathon a few years ago and vowed never to do it again - but there was absolutely no way that Serene was going to do the marathon and not have me holding her hand as we cross the finish line.
Training has started slowly but we have a plan in place to take us up to the day of the marathon.
We are both very determined and need to make sure we find the balance between doing the proper training required without over doing it - particularly with Serene's illness.
We have started fundraising already and spent 2 days busking in Romford with my Dad playing the Saxophone, which raised over £500.