OrangeLine - A service I'm proud to be part of
My association with Saint Francis Hospice goes back to Nov 2001, when my mum was looked after by Hospice at Home.
04-04-2021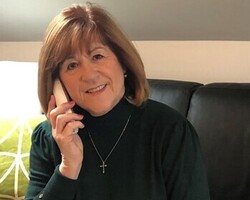 I became a volunteer in January 2002, I felt I had to do something.
I have always had a strong bond with this wonderful hospice and all the marvellous people in it.
I have had various roles in my 18 years within the Saint Francis family. This includes 11 years as a staff nurse, fundraising, helping start groups such as the Patrons Circle, Tea & Talk at Toby's our monthly community support group, and our annual Ladies Lunch.
This year, like everyone else, I was at home, keeping safe and following the rules, but needing and wanting to be able to do my bit for those out in our community who were suffering loss, bereavement, loneliness, and illness.
I saw a call for volunteers for the OrangeLine service advertised late last year, I applied immediately and was delighted to be accepted into this wonderful, professional and compassionate service.
OrangeLine is a telephone support group that is part of Saint Francis. Hospice.
It is managed by very experienced people who guide and train volunteers to be able to support and comfort people in the community.
All the training was done online with Zoom and we have IT support should we need it.
We were given tutorials in communication and the skills needed to do this deeply personal service for people. It was interesting, fulfilling, and very educational.
We cannot do any face-to-face groups or meet up so this telephoning regularly is the only way left to help give solace and contact to those faced with grief and illness while they are forced to stay at home due to the pandemic.
OrangeLine is welcoming, supportive and extremely friendly, and helpful. A great service that I am very proud to be a part of.
During my weeks of volunteering so far, I have contacted many people who have been recently bereaved and who are trying to find a way forward in the most difficult of times.
To be going through such personal pain and sorrow when bedside vigils are reduced or impossible is awful. Funerals are limited with minimal or no family contact and support allowed, so it is much worse for people than it usually is.
It's very humbling to hear how utterly grateful people are to just hear a friendly voice. Someone who is prepared to listen, who cares. and can empathise.

As always with volunteering with the hospice, you personally get back so much more than you ever put in. That's how rewarding it is.
Click here to find out more about becoming a Saint Francis Hospice volunteer.