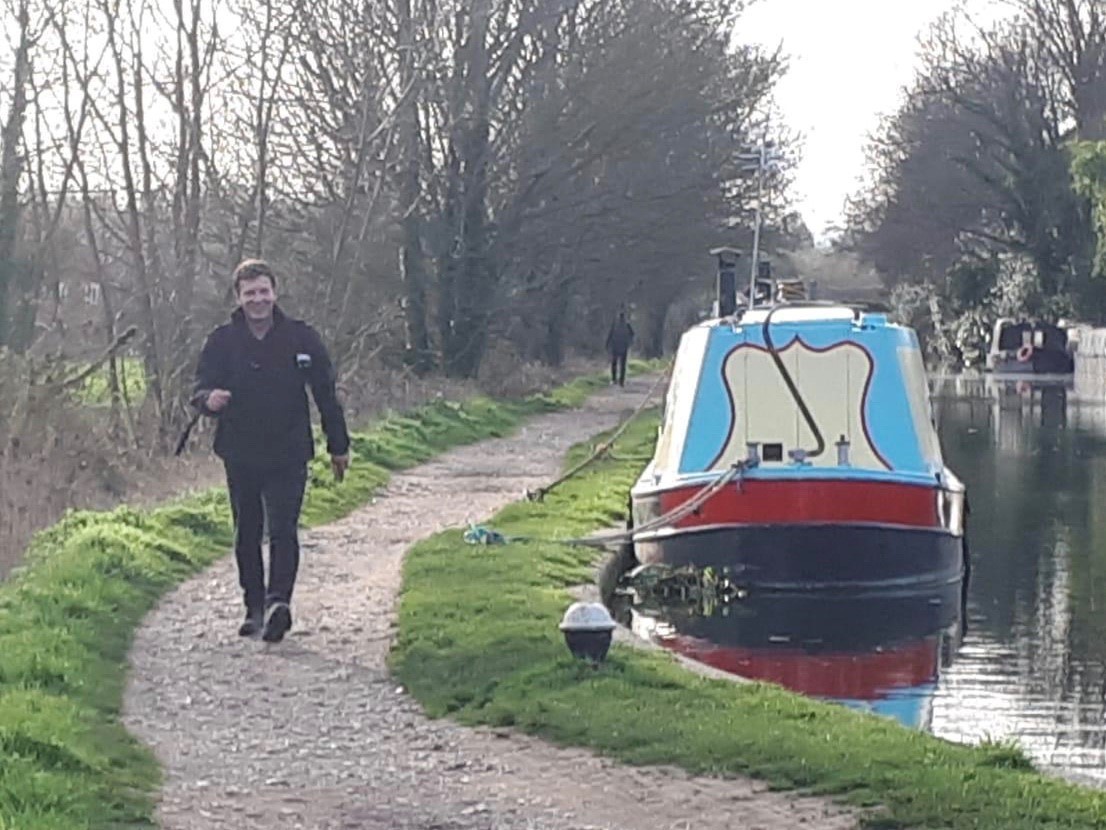 100,000 steps in 24 hours
05-04-2019
Mark Osborne's father, Frederick, died 16 years ago which being cared for by our Hospice. In his memory, Mark has just taken on a huge challenge and was kind enough to share his experience with us.
________________________________________________________________________________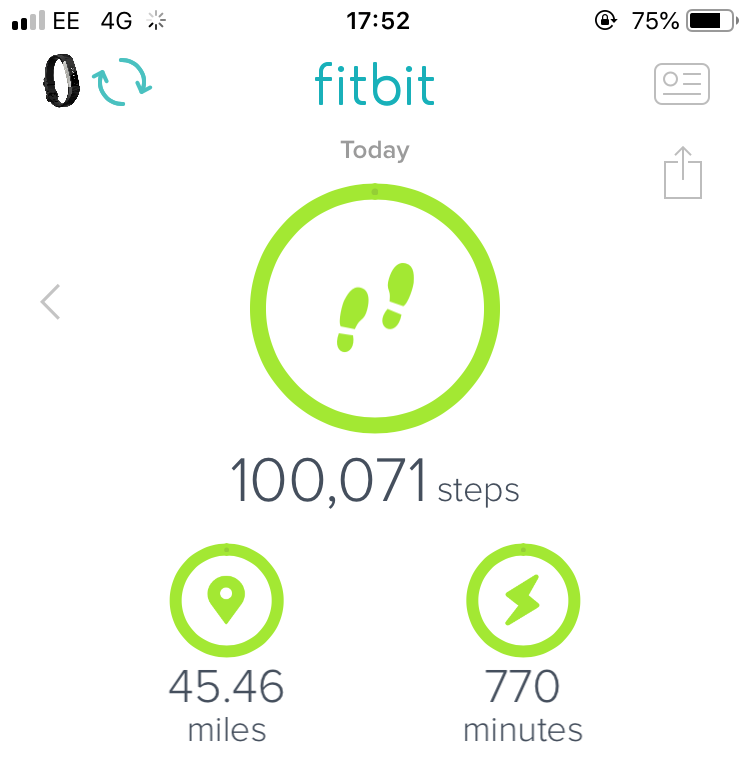 Dad spent his last week's being cared for by the fantastic caring staff of Saint Francis Hospice. He died of asbestosis having spent many years working in an industry that was rife with asbestos, where its long term health effects were unknown. I decided, in memory of my Dad and to support the staff of Saint Francis Hospice, to set myself a challenge of walking 100,000 steps in a day (approx 45 miles).
I wanted to support Saint Francis Hospice because of the amazing work they do in supporting and caring for patients who are mostly terminally ill and require palliative treatment. Knowing you are to be cared for in a Hospice is a frightening time for both patient and family alike, but I cannot stress strongly enough that the love, care, dignity and respect shown towards my Father instantly made him, and us all, know he was in the best place he could be. I will be forever grateful to all the staff at Saint Francis, and these guys are the real heroes.
Let me tell you about my walk: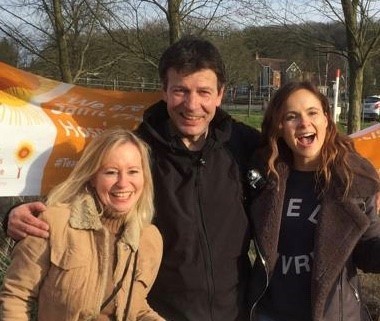 Amanda, my wife, dropped me off at the start just before midnight on Friday. I stood there and waited for my Fitbit to change over to Saturday so the data would be captured on one day. So began my first 5 hours in darkness along the towpath which was challenging with the Hertfordshire wildlife (owls, rats, foxes, deer and sleeping ducks) doing their finest to scare the living daylights out of me.
The imagination is a wonderful thing but why did mine start replaying every scary movie scene I had ever watched in my life!? I walked along with the beam of my torch shining a few steps in front of me, expecting everything from axe wielding maniacs to zombies leaping out in front of me. The mist was lapping across the towpath from the canal and my breath was obscuring the beam of my torch that was secured to the strap of my rucksack. I had to cup the beam as not to shine it on the long boats as their occupants slept - last thing I needed was a torrent of abuse from the locals! Why had I read so many horror stories as a child - I hate you Stephen King!
Daylight finally got here about a quarter of the way into my journey - it then became a mental challenge as well as a physical one as my boots started to rub my ankle and the straps of my rucksack started to dig in with the weight of water and supplies I was carrying.
I eventually got halfway - 22 miles - after about 8 hours and sat down for half an hour to refuel, which I instantly regretted as when I got up my legs appeared to have seized up. I felt like the tin man in the Wizard of Oz!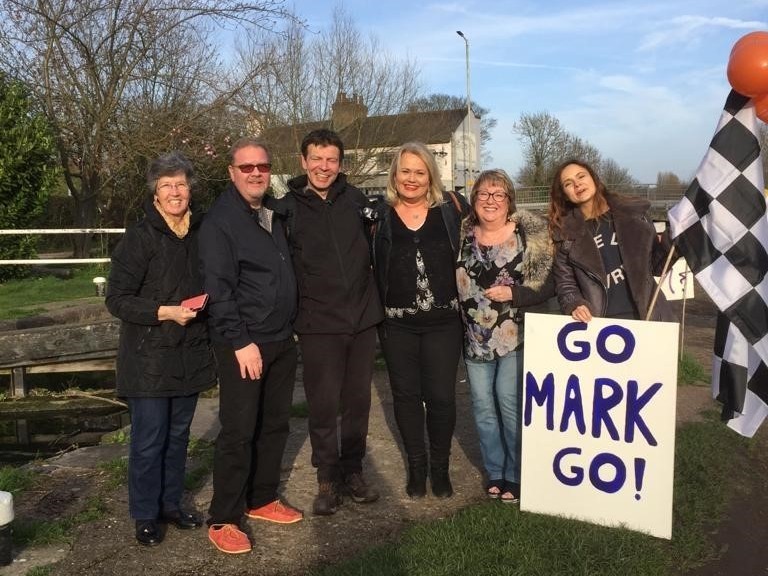 After a few minutes of stretching I was on my way back. I had been watching the weather forecast for the last couple of weeks with avid interest, firstly to know which day to pick - I probably would have chosen another day if it had said rain all day - and secondly what to wear. Well thank you weather people - they forecast 10 degrees and cloudy. Perfect I thought but no, around lunchtime the sun came out and was bathed in glorious sunlight. Any other day this would have been welcomed, but with the rucksack digging in I needed the support of my jacket to cushion the weight therefore becoming very hot and uncomfortable.
Past the ¾ point with 11 miles to go, the good weather had brought out all the joggers and cyclists along the canal. I seemed to be forever jumping out the way of the cyclists who were coming up behind and ringing their bell for me to move over. Well the end was insight and I could make out a small group in the distance. My lovely wife and daughter, unbeknown to me, had organised for my Mum and a few friends to be there at the finish for me.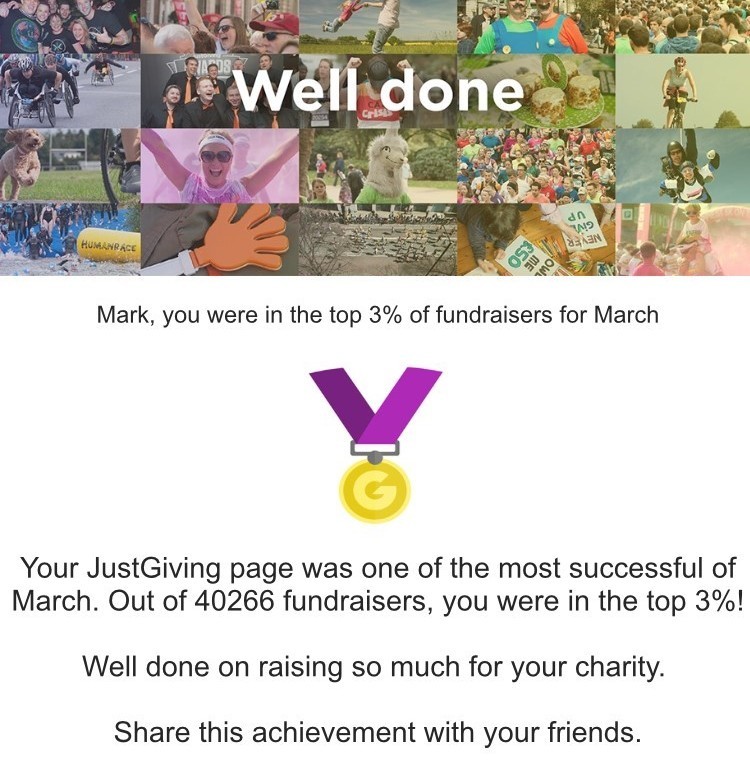 After the hearty congratulations and photos we went across to the pub to celebrate. I got home about 7pm, had a bath and was in bed by 8pm. I slept like a log, solidly for 10 hours. Sunday I surveyed the damage - my blisters had blisters, and my knees, hips shoulders and muscles ached but it was worth it to have raised money - just over £2,000 - for this amazing charity.