Digital Educator hopes to extend the reach of Hospice learning
Adjoa Nsiah-Jennings hopes to support the learning for more people through digital education
04-06-2021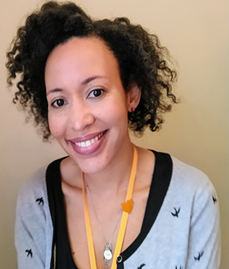 I first became aware of Saint Francis Hospice as a student nurse, when I spent a week on the Inpatient Unit Ward for my elective placement. I was so inspired by the collaborative multi-disciplinary working and the core commitment to holistic care. I always hoped that one day I would find my way back here.
As a new position within the hospice, my role as Digital Educator is evolving alongside the needs of the organisation. However, primarily I am tasked with developing technology enhanced Palliative and End of Life Care Education.
This involves working with staff to increase their digital literacy so that they can be better equipped to communicate and collaborate with the people they support. Finding new ways to increase our reach beyond the traditional realms of face to face teachings. Whilst ensuring we do not lose the quality or connection with our learners in this specialist field.
Over my career I have worked in a number of areas including media, project management, education and nursing. What's so exciting about this role, is that it enables me to bring all of my experience and skills together.
The importance of education at work
Education plays such a vital role in supporting staff and volunteers to have all the capabilities they require to navigate these new digital ways of working. Whilst we value the importance of face to face teaching, by providing a digital alternative we will also be able to extend our reach and accessibility to all.
My ambition for the role is to continue to support staff in developing their digital literacy knowledge and skills. To develop technology enabled education that is based on co-design and connection with the people we care for at the centre. To form digital networks with other organisations in the sector to support new joint learning and innovation opportunities.
Our progress so far
Since starting in February, I have been speaking to lots of staff about their learning needs in this area. In response to this, I devised a Digital Education Survey which has gone out to all staff and volunteers across the hospice. We've had a fantastic response and all of this data will help shape the development of our digital education training programmes across the organisation.
I also launched in May, our first 'Learning at Work Week' at the Hospice, a national campaign to celebrate learning. This introduced staff to a fully interactive programme with a variety of content including a whole host of contributions made by staff. Showcasing just how digital education can be interactive and engaging for all.
Looking forward to the future
My next focus will be on the delivery of our new digital education training programmes and supporting on other projects within the Education team. There's lots of work to do, but I have already received such fantastic support - I am very much looking forward to the challenge.