London Marathon 2019 - Sue Spong and the Family Support Services team - Part 1
I work in the Family Support Service here at Saint Francis Hospice and I am running my 18th London marathon this April.
04-02-2019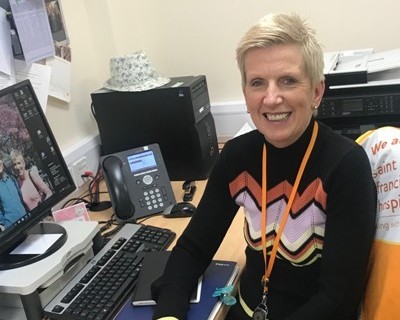 We are a team of Social Workers, a Psychologist, Admin support, a Children & Family therapist, an Art therapist and myself, a Person Centred Counsellor.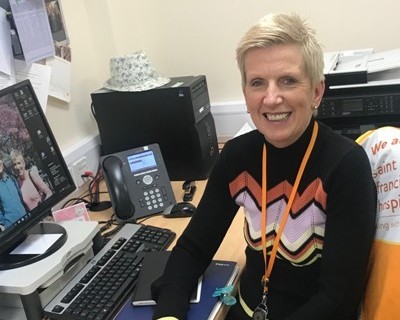 We also have 40+ volunteers who give their time to sit with our families in their bereavement.
A new addition to the team this year is our manager Shahina's baby Naeem.
It is a service like no other, supporting patients and their families and friends pre and post bereavement, offering advice and information.
Our groups include walking, writing, music and bereavement, and we offer carers a break throughout the year with cream teas, a Falls Feast and of course our Christmas Cracker lunch.
This year we have offered activity days to the children we support and a day trip on a Lee Valley River cruise.
We also took the Writing Group to a West End show with money that was kindly donated.
In each of my blogs, I will of course update you on my training and ask a member of the team to comment on how they feel about their work within the team.
TRAINING is going well. I completed an 18 mile run on Sunday and enjoyed a sports massage the following day.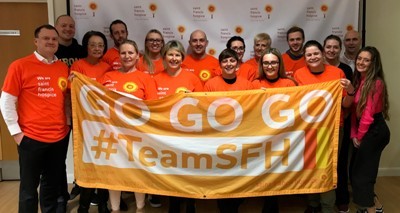 I am putting the miles in and will work hard to run a good marathon.
Meeting Team SFH last week was a joy. Listening to their reasons for running is very moving and special.
To Be Continued.........
June is our secretary known as the ORACLE ... she says...........
"I have worked at the Hospice for 16 years.
My main duties are taking calls to the team, checking emails, taking minutes, inputting activities on our computer system and all admin duties. I really enjoy admin work.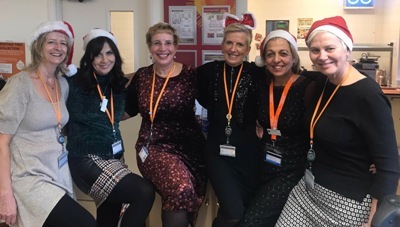 I know the work the team does makes such a difference to people at a really difficult time in their lives - whether it is enabling them to off-load their feelings, giving advice on financial worries, supporting young people at the Hospice or their school.
Photo: June right with Sue (centre) and members of the Family Support Team.
I sing in the Hospice choir and have recently started yoga at the Hospice.
The team entered the Hospice Got talent competition and had a good time.
I feel it is a privilege to work here as I know people really care."