Rebecca Parker - My role as a bereavement volunteer
The Family Support Services Team provide emotional and practical support to patients and their families.
09-04-2019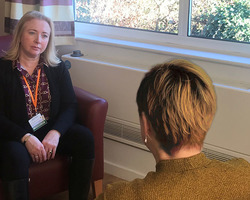 Our team of bereavement counsellors support bereaved people or those facing the loss of a loved one. In the past year, it supported 529 adults and 106 children and provided 3,912 telephone or face-to-face consultations.
Rebecca Parker joined the team as a volunteer bereavement counsellor in 2018.
She is working towards a Level 4 Diploma in Therapeutic Counselling and as part of her training she has been supporting people under the Hospice's care.
Here Rebecca gives an insight into her role with the Family Support Team and the difference she hopes to make to people at such an incredibly emotional and vulnerable time in their lives.
Rebecca says...... I began my client work in March 2018 and since then I see two clients every Wednesday morning.
I have worked with 5 clients so far, all with relatives who have died in the care of the Hospice: a son, two mothers and two husbands.
We always see clients weekly and this regularity and commitment is an important part of the process which has been shown to improve the outcome.
Sessions are always at the same time with the same counsellor in the same room.
This helps the client to feel safe at a time when, in life generally, they may feel unsafe and vulnerable.
Some clients' grief is complex and the number of sessions we offer is not fixed. It's up to the counsellor and client to agree and regularly review what is needed.
What I hope counselling sessions will achieve
I approach each session with an open mind, I never know what the client will talk about.
I try to identify topics with them that might be useful to discuss during our work overall but don't have an agenda of any kind!
I work with what they bring on a week to week basis.
Seeing clients 1:1 creates a special relationship
My training enables me to listen in a non-judgemental way - I accept the client just as they are, whatever they say.
Talking to me, with the strong and important confidentiality boundary, enables them to feel safe.
They seem able to trust me and be open about things they may not be able to say to anyone else.
What I find most rewarding about my role as a bereavement volunteer
It boils down to the satisfaction of clients telling me I have made a difference to them.
They often describe differences in how they think, feel and behave.
I feel it physically in my heart - it's amazing!
Bereavement group
I co-facilitate the Newly Bereaved Group which is held at the Hospice one evening each month.
The group aims to bring people together who are in similar situations - it can be reassuring to hear other people voicing the same emotions, fears and ideas and to hear that what they are experiencing is normal.
Some participants find they make new social contacts and widen their support network.
For others, I think just getting out of the house, away from their situations, can be of benefit.
Lastly, I've found group members can say things they wouldn't say to friends or family because they feel safe, that the others will understand, and they won't offend or upset anyone.