Why OrangeLine has been a lifeline for me during the pandemic
A listening ear, a friendly chat, and being able to share how you feel without the fear of being judged, is something we all need from time to time.
12-04-2021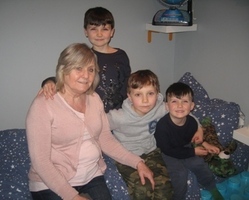 But when you are having to cope with a serious illness and the treatment that often follows, along with a year of isolation as a result of the covid pandemic, it becomes more of a lifeline.

Linda is a retired primary school teacher and here she tells us what our confidential telephone service OrangeLine means to her…..

When I was first diagnosed with myeloma, I got an almighty shock. I know now that it's a rare form of blood cancer but I had never heard of it at the time.

There is no cure for myeloma but it is treatable and I've had a lot of treatments. I was attending the support group Tea and Talk at Toby's in Woodford with my husband until the pandemic and everything had to stop.

The group, which is run by volunteers from OrangeLine, Saint Francis Hospice's confidential telephone service for people who are lonely, isolated or bereaved, was such a great help. I was able to find out more information about my cancer and meet with people who were in a similar situation.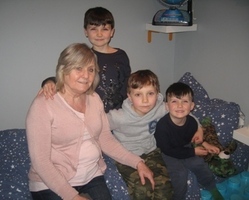 When you are talking about something like cancer, it can be uncomfortable to talk to friends and relatives at times. This was my outlet to discuss something that some people find very difficult to talk about. And my husband benefited from it too.

I looked forward to it and it was the first thing I added to my calendar every month.

Once we were in lockdown, Karen, who is the Manager at OrangeLine, told me about the helpline. I got in touch and I am so glad I did. Now every Monday, Ruth, who is one of the volunteers, gives me a call and we have a chat. Her calls are so valuable to me.

I do not want to repeatedly burden my husband with my feelings as he does not need this extra pressure. He is wonderful but he lost his first wife to kidney cancer when she was 45 and he is having to go through it again with me.

I have been shielding since the first lockdown in March last year and even though I live with my husband, I can still get very lonely as he has to go out and do the shopping.

The pandemic has given me such a fear of being around people. I have no immunity and if I caught covid it would be terrible for me.

I had a stem cell transplant last year and I was in isolation. It was horrendous. The staff at the hospital were wonderful but being in isolation during the pandemic was worse than normal. I had a complete meltdown after day 18. I was in a room with just 4 walls and a fridge. I look back now and I don't know how I got through it. Sometimes the reality of my situation just hits me.

I put on a brave face. Some days I wake up in an awful dark gloomy mood and I cannot shift it. It is not the real me. The support from Ruth is a great help to me at such times.

It helps me so much to know that if I have any issues or worries, I can share them with Ruth without always having to burden my husband.

She is fantastic - she just listens and we talk about everything and anything. She is a person I feel I can say anything to. You need something to hold on to for sanity's sake and Ruth is there.

I have a daughter and three grandchildren but they live in Spain. They were due to come and visit before the pandemic but this had to be cancelled and she still hasn't been able to come because of the restrictions.

I feel that I cannot fully explain my emotions with my daughter as she is far away and powerless to do anything. She has to carry on with her life with the kids.

I know other people will be going through a difficult time, just like I am, but they really don't have to go through it all alone.