Saint Francis Hospice: 15 myths and myth busters
For many people, the word 'hospice' conjures up images of a gloomy building where people go to die. This couldn't be further from the truth.
07-10-2019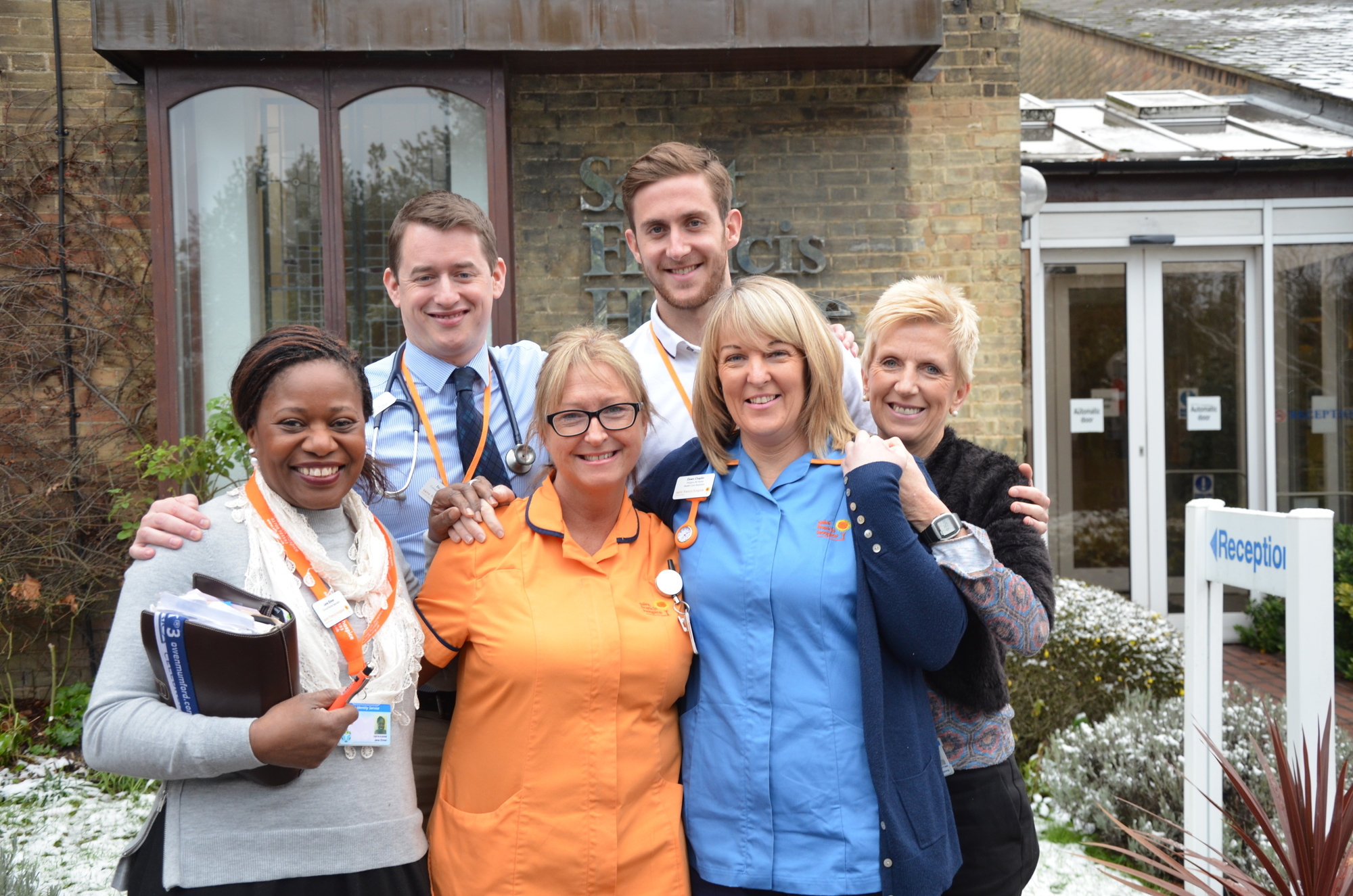 You can expect life, love and laughter at our Hospice all set in beautiful surroundings. To set the record straight, here are 15 common myths about our Hospice and the truth behind them.
Myth 1: "You need to be religious or a Christian to be involved with or cared for by Saint Francis Hospice"


Although the inspiration for our name came from the Prayer of Saint Francis many years ago, we're not religious-based. We've always cared for people of all faiths — including those with no faith. Our supporters, staff, volunteers, and patients come from all different walks of life.
Myth 2: "The NHS funds, owns, and runs Saint Francis Hospice"

We're self-run and self-funded. Local people raise nearly 75% of our operating costs by organising fundraising events, buying from our retail stores, or making a financial donation. We rely on the kindness and generosity of the public to help us raise over £7.8m a year.
Myth 3: "The Hospice and its gardens look so lovely it must be a private hospital for people with a lot of money"


Our Hospice is a registered charity and a local independent voluntary organisation. A team of volunteers look after our gardens, and it's with thanks to them that we have such a beautiful site for everyone to enjoy. We don't charge patients, their families, or their friends for any of the care or services we provide.
Myth 4: "Saint Francis Hospice is for old people"


We don't only care for older people; our inpatients can be as young as 18. We also provide bereavement counselling for children who lose a loved one at the Hospice.
Myth 5: "Saint Francis Hospice only cares for people who live in Havering"

While our Hospice building is in Havering-atte-Bower, our community nursing services provide the largest part of our work. We support people living Havering but also Barking and Dagenham, Redbridge, Brentwood, and parts of West Essex.
Myth 6: "Saint Francis Hospice only looks after people with cancer"

While cancer is a condition we specialise in, we're also experts in caring for people living with all types of life-limiting illnesses. These include (but are not limited to) strokes, motor neurone disease, Parkinson's, and heart and lung disease.
Myth 7: "Saint Francis Hospice only admits patients during the week and in working hours"


We welcome new patients every day, including Saturdays, Sundays, and bank holidays.
Myth 8: "Saint Francis Hospice always has a waiting list of inpatients"

There are days when we do, but not always. We have a referral meeting every day and work hard to balance the needs of local people. Health professionals shouldn't be put off from referring people to us.
Myth 9: "Saint Francis Hospice has visiting hours like a hospital"

Our Hospice is open for visitors to see their loved ones 24 hours a day, 7 days a week, 365 days a year. There is always someone on reception (often volunteers), plus extra security at night time.
Myth 10: "I've seen the hospice it's on the high street"


That would be one of our many local retail charity stores that raise much-needed funds to help us continue to care for people, free of charge. Our stores also help re-cycle goods and support the environment.
Myth 11: "I know Saint Francis Hospice needs volunteers, but I don't think I would be any good around sick people"

We need volunteers to do lots of different jobs. You can put your skills to good use whatever they may be. Volunteers currently work in our retail stores, on reception, and at our events.
There's the chance to get involved in photography, film-making, finance, and gardening to name but a few. Some of our volunteers work on OrangeLine, helping people who feel lonely, isolated, or are going through a bereavement.
Most of our volunteers don't have direct dealings with our patients.
Myth 12: "I'd like to volunteer, but Saint Francis Hospice would want me to commit to full-time work"


Our 820 volunteers give up 265,000 hours each year, saving the Hospice £1.5m over 12 months. They dedicate anything from one to thirty-five hours a week. Everyone at the Hospice would greatly appreciate even an hour of your time. Without our volunteers, we simply wouldn't be here.
Myth 13: "Saint Francis Hospice only provides medical care and looks after people at the Hospice"

We are so much bigger than just our Hospice site. We provide 85% of our care and support services off-site, including complementary therapy, physiotherapy, and bereavement support.
We have a large Hospice at Home team that works entirely out in the community, visiting people at their homes. Our Community Clinical Nurse Specialists are also based offsite, supporting GPs and district nurses.
Myth 14: "Saint Francis is a place where you go to die"


We do care for patients at the end of their life, but 33.5% of our inpatients are discharged and do go home again after we have managed their symptoms.
Myth 15: "Saint Francis Hospice only cares for the person who is ill, and if they die, all ties are cut"


At our Hospice, it's not only about the person who is ill, but everyone around them. We offer therapy for bereaved families and children, on and off-site, both before and long after a loved one has died.
There are many ways in which you can support us. You can find out more by visiting www.sfh.org.uk/support-us, calling 01708 753319, or emailing fundraising@sfh.org.uk