Liberty's Marathon: Training begins
Our fundraiser, Liberty, is running the London Marathon. Here is blog 2 in her series as she goes from novice runner to London Marathon finisher in 4 months.
05-07-2021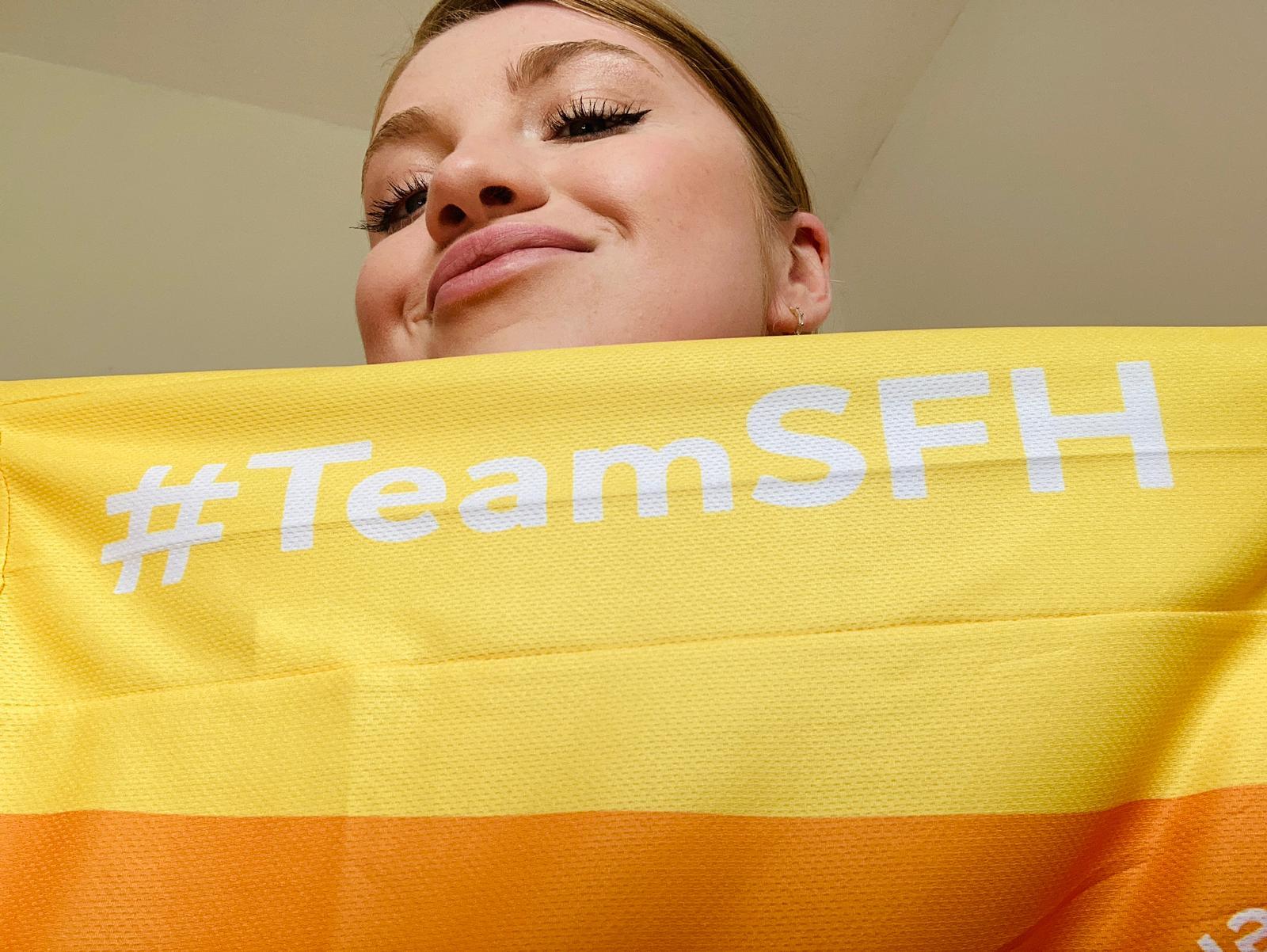 No one tells you about the amount of flies you will swallow whilst running. My current total is 3 (two in the mouth and 1 up the nose - honestly). The books warn you about the blisters and chafing, but not about the bugs.
While I haven't mastered how to wade through a bug swarm without any inhalation annihilation, my first month of marathon training has most certainly taught me more than I could have imagined.
When I naively started planning for this marathon, I really didn't know anything about running - I'm still not sure I do. But, I knew that that I needed a plan. Luckily for me, the stars seemed to align when my Mum came in having heard about a marathon training book on the radio. It was called '119 Days to Go' and I guess what, I had just over 119 days until October 3rd. Thanks to Amazon Prime I ordered the book and got cracking the next day.
I diligently tried to stick to the training runs, but I was unfit and was struggling with the simplest runs. I cannot deny that my confidence was shaking. I had committed to Saint Francis Hospice and told the whole world that I was going to do this (thanks internet!), but I could barely cope with a simple 20 minute jog.
But something happened when I said I would run the marathon. Some sort of odd promise to myself that I would do it. So I carried on. I read about a training method, where if you had to stop to walk then you were only allowed to stop for 60 seconds. I tried it out and it helped, and after a few more runs I was stopping less and running more. It was working and I was increasing my distance little by little.
Of course, when things start to go right, something else starts to go wrong. Come in left foot. I started to experience some numbness as I was running, uncomfortable but not horrific. Then, of course, it got worse. I was out one day and my whole left calf and foot went from uncomfortable to painful, and for the first time I waivered on the promise I had made to myself. I am sure most people embarking on a marathon journey will know the moment: a little whisper of giving up starts to pop into your head.
I knew all along that fitness alone wouldn't get me through this journey, the ol' noggin was going to need to get involved at some point - and here was that point. I planned a two pronged attack: fix the leg and fix my resolve. The leg was easier to fix: I found a stretching routine, re-laced my trainers to make them looser and invested in some ibuprofen gel (best. purchase. yet.) The resolve was slightly trickier. There wasn't a gel that I could rub on and get rid of the doubt I was experiencing.
But… I did have Saint Francis Hospice in my back pocket. The thought of letting anyone there down was not an option. So I only had one choice - to carry on. Having that to fall back on is always helpful. Even though it cannot take away pain, it reminds me why I am doing this ridiculous thing. And, I am sure in the thought that it will carry me through the next three months.
I cannot believe we are 1 month down already, I thought the marathon seemed so long away, but it seems to be approaching faster than I can run (which is pretty slowly). We are fully on board this journey now, whether you are running the marathon too, or just here to listen to my accounts of girl vs. bug, thank you for joining me on this runaway train!
I will be back in 1 month, but first here is my round up and some top tips I have learnt in the past 4 weeks!
Lib's Month Round Up & Top Tips
25 days done, 31.1 miles run, 3 bugs killed, 2 puppies stroked, 1 tube of ibuprofen gel used, 2 litres of chocolate milk consumed (it's good for recovery - honest!), 4 books read, 0 toe nails lost (YES!).
Training:
Stretching is Everything! One thing I have learnt this month is the importance of stretching. Stretching that left calf everyday has been essential to reducing my pain. Here is the YouTube video I have been following: https://www.youtube.com/watch?v=d4ZJXhCmORA
Are Hills Hell? Yes… but they are also a great way to build your strength and improve your speed.
Libs Laces: Re-lacing my tight trainers changed my life. Well that's quite dramatic but, it has given my feet room to move and swell as the run goes on and combats any numbness.
Mind-set:
Motivation! I am learning that you need to pull constantly on your motivation to get through your training. Make sure you're constantly reminding yourself that you are doing something amazing for local people.
A Bad Run Is Just A Bad Run. Don't let a bad or painful run affect your journey. I keep telling myself that it is just an off day and the bigger plan is much more important, so I'm trying not to worry about it - and neither should you.
Fundraising:
Events: There are still COVID19 guidelines in place so consider taking your event virtual! That way you can still get lots of people involved and raise those important funds.
Ask Ask Ask: We have a lovely team (I may be biased) here at Saint Francis Hospice, who have loads of experience, and are here to help you, so make sure to get in touch if you need any advice or have any questions!
One final note:
Join me at the beginning of every month here for my monthly blog, or follow us on Instagram and Facebook for even more bits and bobs! If you're a marathon runner, join our special Facebook group where you can chat to me (I will definitely be needing your help!!!) and all the other runners on Team SFH. Hope to see you there!
Libs x
Follow Liberty's Marathon story
Keep up to date with Liberty's incredible journey via her blog that she shares monthly:
Click here to read her first post, find out why she took on this enormous challenge with only 4 months prep and no running experience.
Click here to read the story of her third month, when she faced the biggest challenge of her marathon story so far - and one which could not have been foreseen.
Click here to read about month 4 training, when the Marathon looms and the runs get longer...