Hilda's holiday
Hilda Witchalls has been living with heart failure for two years. When a nurse suggested that Saint Francis Hospice could manage her discomfort, just the word 'Hospice' was enough to fill Hilda with dread.
01-10-2020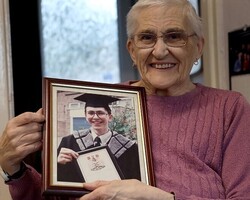 "Please don't send me there to die," she would say.
Saint Francis Hospice being a place where people solely go to die is a myth that the charity is eager to banish. We've had the pleasure of caring for Hilda six times.
"It's a little holiday for me," Hilda revealed. "I know that I get to go home. When the discomfort comes back, I ask the Hospice to help me again, and I get a bed looking out to the beautiful gardens."
While on our ward, Hilda works on her book that's been 22 years in the making. It's about how to cope with trauma, having lost her son at the tender age of 24.
"Many people don't know who to turn to and keep it all inside," Hilda said. "Grief is like trekking through a desert. There are oases, but not everyone sees them."
Now 82 years old and three-quarters of the way through her book, Hilda has promised that the final chapter will be about our Hospice.
"It's a marvellous place," she beamed.
This year's theme for Hospice Care Week is This Is What It Takes. For us to continue caring for people like Hilda, it takes £25,910 a day in voluntary income.
If you have a fundraising idea — no matter how small — then we'd love to hear from you at fundraising@sfh.org.uk or on 01708 771431.