London Marathon 2019 highlights!
29th April 2019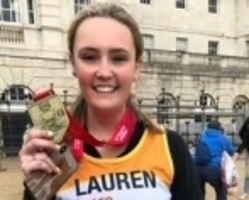 We're incredibly proud of our 41 runners who took up the awesome challenge yesterday as part of #TeamSFH.
There have been highs and lows along the way but they've supported each over all the way and lots of friendships have been forged!
And we were thrilled to be there has they put their hard work into practice on race day!
What an awesome achievement!
The London Marathon is our biggest fundraiser of the year and although it's still too early to say how much this year's event has raised, we know it has been a success and so many of our superstar supporter have smashed their targets!
Here's what some of our runners had to say about the experience....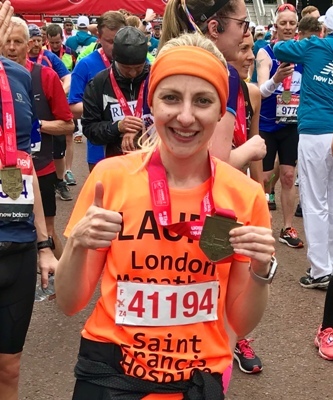 Laura James - "The training is the mentally and physically draining part and the race day is just one of the best days of your life.
It is an incredible achievement and also humbling to be running amongst such amazing people with touching stories and causes."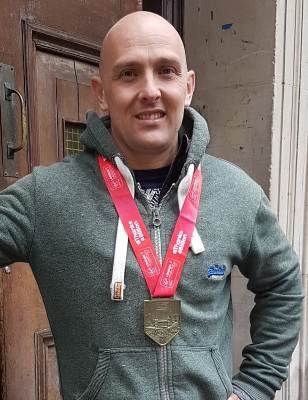 James Plumer - "I've absolutely loved being part of TeamSFH and want to thank everyone involved with it.
The staff, volunteers and other runners have added so much to my marathon experience.
If anyone else gets a ballot place in the future, I'd wholeheartedly recommend getting involved with Team SFH."
Danny Holeyman -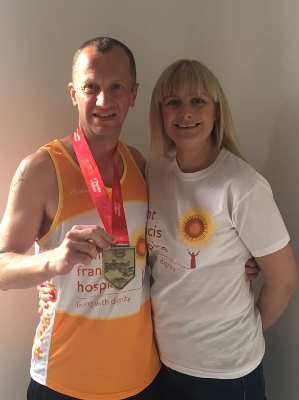 "The whole day was phenomenal.
"It's hard to get your head around the support throughout the course - it was amazing.
"People call your name and look at you as if they've known you for years.
"I knew where Ilford Athletics Club supporters would be and knowing where Saint Francis Hospice would be really helped as I started to struggle at Mile 20.
"I was trying to get under 3:10 as it gives me automatic qualification for all the major marathons around the world and I managed to achieve it by 7 seconds.
"Running for the Hospice was really important to me. The Hospice is a very important part of caring for people in the last stages of their life and its slogan Living with Dignity really hits the nail on the head."
Lauren King - "From the very first phone call to say I had a place with such an amazing charity to now (actually finishing the marathon) has been a whirlwind of emotions.
All I can say is that the training is the hardest thing and if you stick to it and run as much as you can, the crowd will carry you around that course!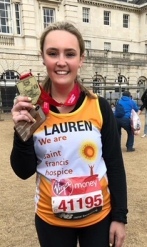 For my first marathon, London was the most amazing experience and I recommend it to everyone to complete at least 1 in their lifetime.
For those who said I would 'hit a wall' I can truly say I didn't as I loved every moment - I had a wobbly turn at mile 13 through lack of sugar but quickly picked myself up with some fizzy sweets and kept going!
If I can do it then anyone can and I really mean that.
I most enjoyed fundraising and raising over £4,300 for Saint Francis Hospice and their support throughout this whole experience will live with me forever.
I will continue my fundraising with an annual event each year! I can't thank them enough!"
Ben Whateley-Harris - "A brilliant day in perfect conditions.
The crowds turned up en masse to make it an incredible experience and it was my favourite London Marathon out of the three I have done.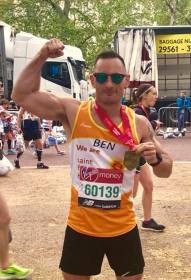 The bands, music, cheering and the comical signs held up by spectators made every mile fun and enjoyable.
I put my head down and went for a time and got it.
En-route I saw so many faces I knew, all shouting my name.
I sped pass waving at Mile 23 where the Hospice supporters were and they were going mental.
I thought some of them may have injured themselves with their wild celebrations.
London is the greatest marathon of them all.
Only the British can make an elite sporting event into a charity heavy, costume laden carnival of running.
Everyone who took part did so well.
It doesn't matter if you didn't get the time you wanted because after all we all ran the same distance.
Whether it was your first time or your 50th marathon, each one of you should hold your head up high and wear your medal with pride.
I hope I made my Dad proud. I did it for Saint Francis Hospice, I did it for him and I did it for the memories I treasure."
Sue Spong- "I am feeling great and yes it was amazing....I had a great run and really enjoyed it.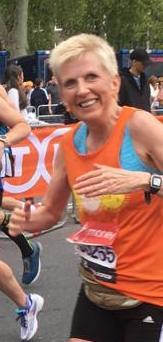 The Hospice support at Mile 23 was AMAZING...seeing the line of orange and seeing the smiling, happy faces gave me such a lift.
I looked at them all and knew I could run the last three miles...THANKS to every single one.
3:52 is a good time for me and makes all the training worthwhile....but, those supporters, WOW.
If anyone is thinking of doing London, the Hospice really knows how to look after their runners.
Thanks to all the experts who spoke at the marathon evenings about nutrition, physiotherapy, sports psychology...even a seasoned runner needs motivation and support!"
Grant Shotter
- "It was a great day all round.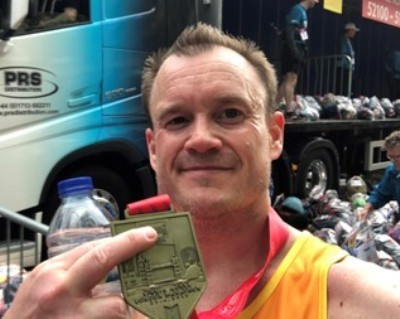 The weather cooperated, the crowds were as awesome as everyone tells you, and the SFH crew at mile 23 were very well placed as those last 5 miles are so tough.
"Really glad to have done it for SFH."
Abigail Feeley and Lily Clark -"Me and Lily actually ran the whole marathon together and we couldn't have done it without each other.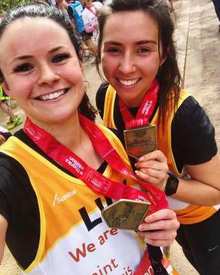 We really motivated each other, especially after about mile 20 when it got really tough mentally and physically!
Lily said that it was the support as you go round which was amazing and kept her going. Seeing friends and family and SFH at mile 23 makes a massive difference!
When I found it tough, I really thought why I was doing it - for my Mum and the Hospice - and it made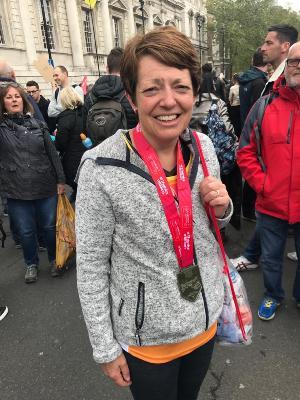 me push on!
It's such an overwhelming, emotional and incredible day. I can't walk at all today, but all worth it!"
Lara Elliott- "Running the marathon, you see London at its best.
Particularly the people who come out to support, young and old from all walks of life, they're cheering you on willing you to succeed, even though you're a complete stranger.
A positive wave of humanity!"
Liam Beale - "The day was incredible.
"I had no sleep the night before due to being excited and nervous.
It didn't matter on the day as the crowds and the excitement got me through and I loved it!
The finish was tough but seeing the Saint Francis team at 23 miles was a big boost and kicked me on to beat my target of under 4 hours with a 3:50 finish!"
Emily Wray - "I had the most amazing day!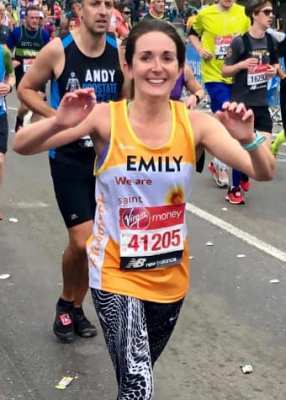 It was really incredible and the crowd were absolutely brilliant.
They got me round.
I really loved it and made sure I took it all in.
It was everything I hoped for and more.
Thank you so much to Saint Francis Hospice for giving me the opportunity to run."
Joshua Fowler - "The highlight for me was just the atmosphere on the day; the crowds are so good.
I spent hours curating a playlist and barely listened to a single song as I didn't want to miss out on the cheers.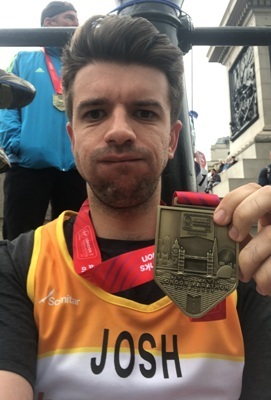 On the course, I don't think there's a better moment than turning the corner between mile 12 and 13 to see Tower Bridge appear.
It's a mental checkpoint as it's just about half way, but also a reminder of just where you are and what a privilege it is to run the London Marathon.
Of course, seeing friends and family along the way is a big boost, too.
This was my second London Marathon, both for SFH, and i'm nothing if not consistent.
My finish time in 2019 was just 9 seconds off my 2013 time.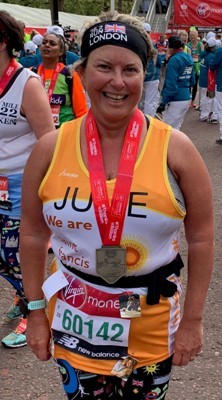 Hoping to make it a hat trick in another 6 years!"
Julie Buckley - "What an amazing experience I have had running the London Marathon for Saint Francis Hospice - the support they have shown their team has been absolutely wonderful and on the day they were there just when I needed them at mile 23!
My Mum would be so proud of my achievements and I am equally proud to have raised so much money for a wonderful cause."
Tina Leung - "It was a lovely day for the marathon runners. The crowds were amazing.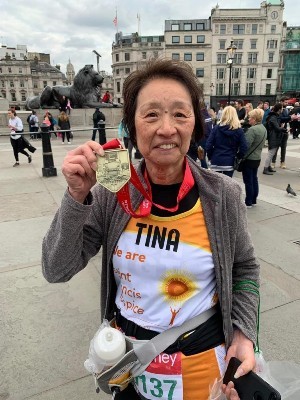 They all looked so happy and cheerful.
I have never seen so many orange, banana, crisps and Jaffa cakes, and of course Jelly Babies and sweets, given out along the route.
The support at mile 23 from Saint Francis Hospice was so good.
I really needed the cheers and encouragement from the team at that time and my favourite cheese and onion crisps - they boosted my energy for the last three miles."
Craig Grote - "It was an absolutely brilliant day - I loved it!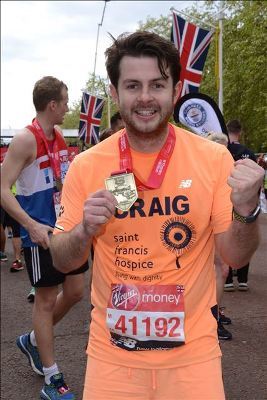 This was my third London Marathon and I achieved my best time yet, finishing in 4 hours 19 minutes.
Even though it was really hard, it was easier than before as I got my pace right this time.
I am over the moon with the money I have raised and it meant so much to me to see my daughter Elsie there on the day.
And I enjoyed a nice cold beer at the end which went down very well!"
Serene and Kelly Panayi - "We had such an amazing time on Sunday. It was a real hard slog with lots of cheers, sweat, tears and a lot of high fives.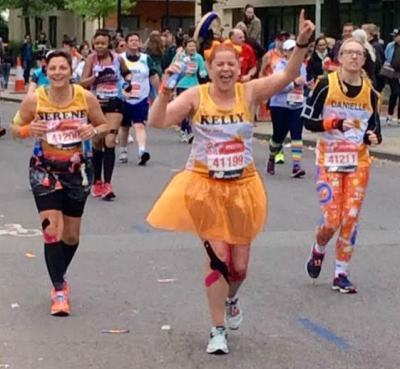 "It was incredible to be supported by so many friends, family and members of the public.

"Seeing Saint Francis Hospice at mile 23 was a very much needed boost! To round off our amazing day, we got to start the run with Danielle Thomas who we became friends with through meets at Saint Francis Hospice.
"We started together and we made sure we finished together, it was AMAZING!
You might also be interested in
11th March 2019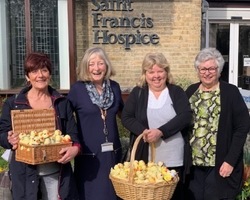 1st September 2020