Together: Saint Francis Hospice and the Salvation Army
24th December 2019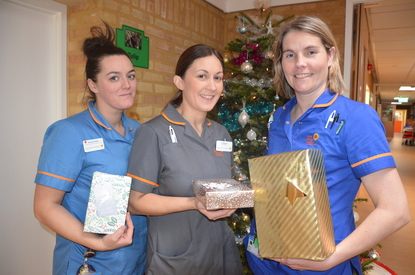 Our Nursing and OrangeLine teams usually celebrate the festive season by exchanging mystery gifts. After learning of the rising statistics surrounding homelessness in Havering, they decided to spend their money on life essentials for the more vulnerable instead.
One of our Ward Sisters, Margaret Power, explained the motivation behind the idea:
"Everyone wanted to do something different this year. We decided that we'd much rather give gifts to people who desperately need them."
Staff donated piles of sleeping bags, survival bags, toiletries, winter woolies, and over £200 in Amazon vouchers to the Salvation Army in Romford.
"We see more and more people who are homeless and in crisis," revealed Dave Chuck, Community Manager at the Salvation Army. "Five times as many people are using our Salvation Army than last Christmas."
Dave explained the similarities between our charities. Much like our Hospice, the Salvation Army relies on volunteers and donations to survive. Our OrangeLine volunteers also lend a listening ear to the Salvation Army's guests if they are feeling lonely and isolated.
"We have a lot of synergy with Saint Francis Hospice," Dave revealed. "Five people who we cared for this year were diagnosed with terminal illnesses, and the Hospice helped us.
"As sad as it was, they spent their final days in dignity and beautiful surroundings. The patients were able to enjoy a much better quality of life."
The Salvation Army doesn't only serve the homeless, but the whole community, including single parents, the elderly, those living with dementia, or caught up in trafficking or domestic violence.
"We help them get to the next step of their journey", said Dave. "We know we can't solve all of their problems, but we can give them hope and kindness, through food, clothes, a shower and a bed. We teach life skills such as cooking, sewing and budgeting, and also help them move closer to permanent housing or rehab.
"A lot of these people have a voice that's not heard. Many people walk past and don't see them or choose not to see them. We show friendship, love, and value them as humans."
The 25th of December is a special day for our Hospice and the Salvation Army. Dave is expecting over 100 people:
"I enjoy it so much. We provide a Christmas meal for anyone who is lonely or in need. There will be presents, entertainment, and lots of laughter as well as some tears.
"The festive season can be a poignant reminder of another Christmas on the streets or the good things people once had but have lost. It's also a reminder for all of us that we could be just one payday away from being on the street."
If you'd like to volunteer for our Hospice, please email volunteering@sfh.org.uk or call 01708 758614
You might also be interested in