Trustees
Our Board of Trustees comprises 10 individuals who oversee the clinical and corporate governance of Saint Francis Hospice. Their role is fulfilled through a number of committees, which meet quarterly and are updated on work done to maintain, improve and evidence the high quality service provided to our patients, their carers, our supporters, volunteers and staff. The Board also carries out a half yearly informal inspection, speaking to patients, relatives, staff and volunteers.
If you are interested in becoming a Trustee, please visit our
jobs page
to find out more.
Chairman - Dr. Robert Weatherstone MA FRCP
Bob qualified in medicine from Cambridge University and Guys Hospital in 1970. After working in training posts in Cardiff and London, he was appointed to the post of Consultant general physician with a special interest in respiratory disease to Barking, Havering and Brentwood Health Authority in 1979. In this year he was also awarded Fellowship of the Royal College of Physicians. Now retired from NHS practice, Bob has been involved with the development of the hospice as a Council member for over 20 years.
Vice Chairman - Peter Crutchett MA FIA ASA
Trustee since 2005
Peter is an actuary by profession and spent most of his professional career advising company directors and pension fund trustees on the financing of pension and other employee benefits. Peter is a retired partner in the business advisory firm KPMG where his work also included identifying practical solutions to problems involving financial risk, facilitating strategic decisions and implementing change. He also has experience of managing businesses with income and expenditure similar to that of Saint Francis Hospice.
Peter Adams CEng MIStructE MIMgt
Trustee since 2002

Peter is the retired Head of Technical & Operational Services for the London Borough of Barking and Dagenham. He qualified as a Structural Engineer in 1972 (C.ENG, M.I. Struct.E) and qualified as a Manger in 1986 (M.IMgt).
Dr. Gurdev Saini
Trustee since 2010

Dr. Saini is a qualified Physician with teaching experience. Special interests include Palliative Care, Dermatology, Medical Politics. In addition to his GP duties other lead roles have included Chairman of Local Medical Committee in Havering & Barking & Dagenham, MacMillan GP Facilitator for Havering PCT, GP Mentor for Havering Primary Care Cancer, Go Advisor to Barking and Havering LIFT-Co, Nursing Home Project Lead, Lad GP Stay Well 75+ and Chairman of National ME Charity.
Paul Gwinn JP
Trustee since 2014
Paul Gwinn, now retired, was Deputy Managing Director and Publisher for Greater London & Essex Newspapers for 30 years then Senior Sales & Marketing Manager with Scottish & Newcastle for 10 years. Paul has been a Magistrate for 10 years and sits at Romford, Barkingside and Waltham Forest Courts and Snaresbrook Crown Court. He is a Director of Dagenham & Redbridge Football Club. He has been involved with Saint Francis Hospice for some six years as a member of the Ball Committee and has organised the Santathon fun run since its inception.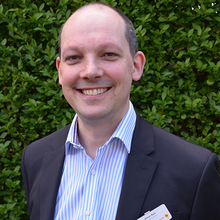 Peter Batt
Trustee since 2015
Peter Batt brings to the Board a wealth of retail experience. He is currently the Divisional Managing Director for the Co-operative group's South area, covering 900 stores in southern England. This new role followed a long period as Regional Director for Sainsbury's where he was responsible for the development of Sainbury's Local shops.
Peter applied for the role following the death of a friend shortly after his 40th birthday, an experience he described as 'life-changing' and a key influence in deciding to give something back his local community. Peter hopes he can provide valuable support to the hospice's retail arm.
Malcolm Miller BA FCMI MIHM
Trustee since 2015 and Hospice Treasurer since 2016.
Malcolm Miller brings to the board over forty years healthcare experience from the private healthcare sector. He has held various executive positions in general management and finance with BUPA. He recently retired after twenty years as the Chief Executive Officer of London's foremost and largest independent hospital, The London Clinic on Harley Street, Marylebone. Malcolm is also a fellow of the Royal Society of Medicine.
Pauline Russell MCIPD
Pauline Russell has been a co-opted member of the corporate governance committee since 2014. She has extensive experience in HR, working as group HR manager with responsibility for policies and procedures governing the working life of 250 employees. She is hoping to add value to the board by using her past experience and the lessons she has learned to ensure that "governance is done correctly". Pauline is from the local area and has known and admired the work of Saint Francis Hospice for a long time.
David Forster
David has a background of leadership, influencing and representational roles in high profile and diverse environments, managing complex and challenging situations together with many achievements in Fundraising. He describes himself as a creative strategist.
A professional career in the City for more than 30 years in the Lloyd's of London Insurance market, reaching Managing Director level; followed by a senior fundraising role with Macmillan Cancer Support for 10 years.
He became a certificated Member of the Institute of Fundraising successfully completing their examinations. During his business career he maintained parallel voluntary roles within the community, which he has further developed since taking early retirement.
He has previous experience with Havens Hospices, which is both an adult and a children's hospice, where he served as a Trustee for eight years, and as Chair for a further two years. David serves as a Magistrate in the Adult and Youth Courts, sitting on the North East London Bench, was an elected Councilor in Havering between 1974 and 1986, and is currently Chair of Governors of Hall Mead School in Upminster.
Amanda Hallums
Amanda is a registered nurse and midwife. She undertook her nursing and midwifery training at the London Hospital. Amanda has an extensive career in clinical practice, education and management. She has held executive director of nursing roles in both the NHS and independent sector. She lives in Woodford Green, and has a son and three dogs. Her hobbies include music, going to concerts, football - she's a West Ham United fan - and lots of walking. Currently Amanda is working as an interim hospital director, her role involves going into Trusts with specific problems and helping them to get back on track from an operational perspective. Amanda has been a trustee at Havens House Children's Hospice for four years and as a result of her experience there, she was keen to become involved in an adult hospice.