How running helped me come to terms with grief
2nd November 2021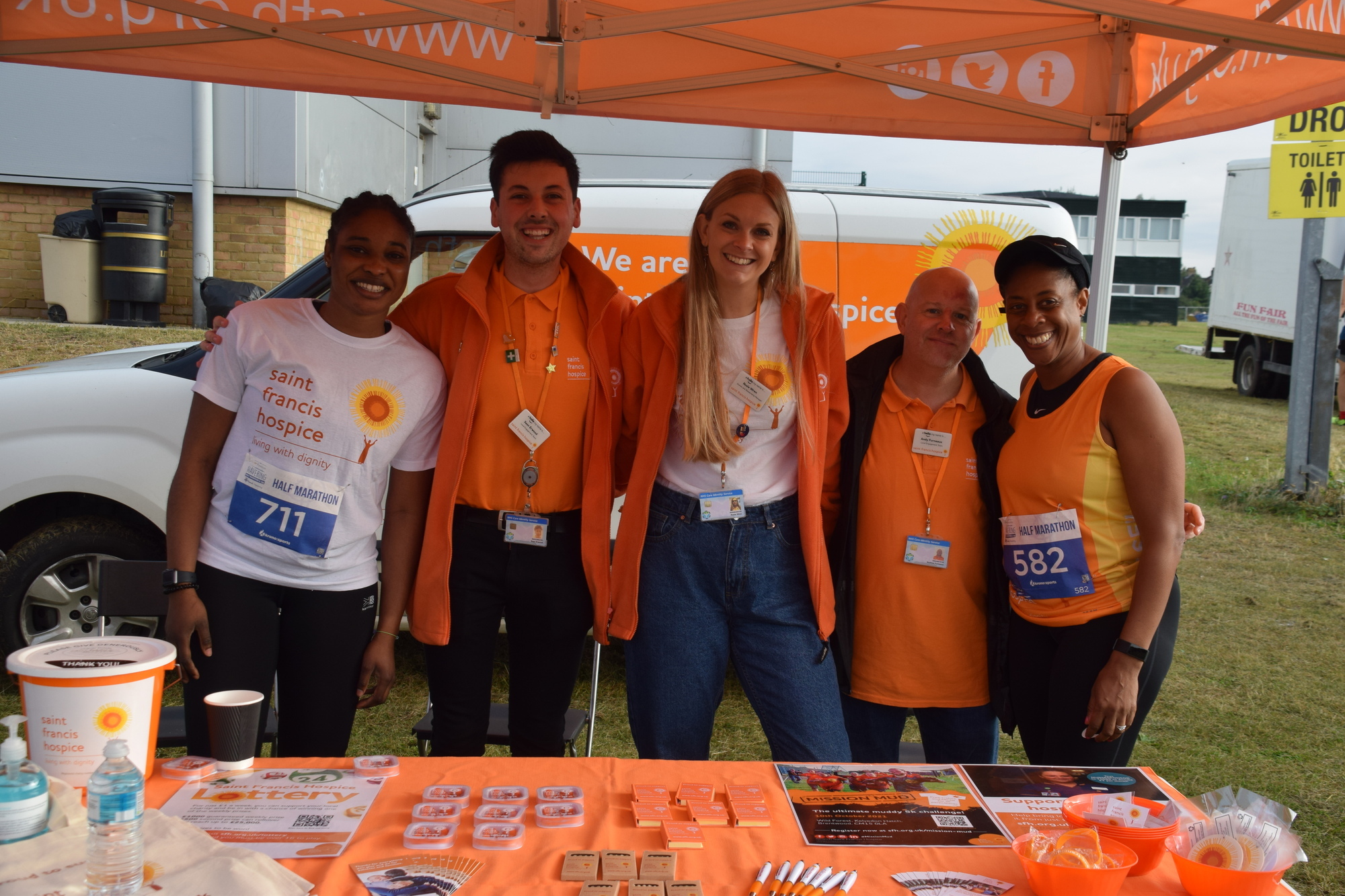 When Leonore Lord-Patterson signed up to run the Havering Half Marathon for Saint Francis Hospice, she had no idea it would take her on an emotional journey that would help her come to terms with the devastating loss of her beautiful sister Wendy. She also raised an incredible £2,310. This is Leonore's story...
Wendy was my big sister, a mother, a daughter, a little sister and a friend to many. She was also my rock. She knew me like no one else will ever again.
When she was diagnosed with breast cancer in 2018, it was terrifying for all of us.
My mum had had breast cancer and had a mastectomy, and we thought that it would be the same for Wendy, but Wendy had a much more aggressive and painful cancer and we realized we would not grow old together.
Finding support through the Hospice
Wendy found out about Saint Francis Hospice when she attended one of the community support groups, Tea and Talk at Toby's.
It helped her to go and talk to other people who were living with cancer. She didn't have to put on a brave face all the time. Then she also started going to groups at the Hospice for support.
I think my sister knew more than we did in taking control of her own end of life care.
The support she got from Saint Francis Hospice was on a whole different level and the support that extended to the whole family was very profound and what we needed.
Wendy stayed at the Hospice twice and the final time was in December 2019.
Staying at the Hospice one last time
By that time, she was in tremendous pain, losing the capacity to speak and her quality of life was deteriorating while she was at home.
We knew she needed 24 hour professional help and it was time for her to go to the Hospice.
We made a phone call and within 24 hours she was able to go into the ward. As a family, we knew that at the Hospice she would have the care she needed.
At Saint Francis Hospice, they take care of the whole of the family and their friends - not just the person who is dying.
It was such a difficult time. What made it even more difficult was that we couldn't even hug her because the cancer was now also in her bones and it hurt so much.
We knew we were having to deal with the start of her final journey and losing a very important person in the family. She was the light in the family.
But we also had some of our happiest memories whilst she was in the Hospice.
Christmas at the Hospice
It was Christmas and Christmas at the Hospice was a special time. There was a lot of cheer and there were lots of Quality Street sweets and people around us were having Christmas dinner! It was a surreal time. But our life was about going to the Hospice to spend time with Wendy. We knew it was Christmas but we were very much focused on the moment.
I remember going to visit Wendy one day and I couldn't find her. She was off shopping at the Christmas Market in the charity's education centre and she had bought lots of gifts for people.
She would often disappear off at the Hospice it was the only time when she was able to be by herself and be safe. Sometimes she would go to the quiet space to pray, she found a lot of peace in that.
A home from home
The care was consistently phenomenal. Wendy had a massive thing about cleanliness. She was always asking for a bath and to have a soak. Everyone gave her a lot of love and the nurses were supportive and considerate to what she wanted and what she needed.
Some of the good times were the late conversations we had without someone looking at the clock because they had to go. She loved a Jack Daniels and Coke and we were able to have a drink from the drinks trolley that came around in the evening and have a giggle together.
She was such a people's person and she got to know everyone on the ward and there were times when I would come in and she would be chatting and having a laugh.
The Hospice gave us a neutral space 24 hours a day, seven days a week, when we had family stresses. We were able to have some really tough conversations that we needed to have.
There were places like the garden and the family room where we could sit as a family and just be there. It wasn't always around the bed and that was important.
Wendy was able to open her window - it was so lovely to look out at the grass and nature.
We never felt any pressure to get out or that we'd been there too long.
The biggest thing is that it did not cost us a penny - that to us was amazing.
The Hospice was there for her family too
Wendy didn't want to go. Her whole instinct was to be here for her two children.
She was able to keep working from home until a few months before she died, and she was able to see her son Daniel's 18th birthday.
She wanted him to have counselling and when she knew he would have counselling, she knew he was going to be ok and she was able to pass on Christmas Eve.
We were there at the end. We were there for her last breath. I feel absolutely blessed to be there at that time and to have that time to say goodbye.
Her passing was so sad but it was also a relief that she was out of pain.
Running the Havering Half Marathon helped with grief
I feel like through my running and training for the Havering Half Marathon, I've been able to let go of the grief I have been holding for the past 20 months.
Running the half marathon has also given me the chance to say thank you to Saint Francis Hospice. It has been such an emotional experience.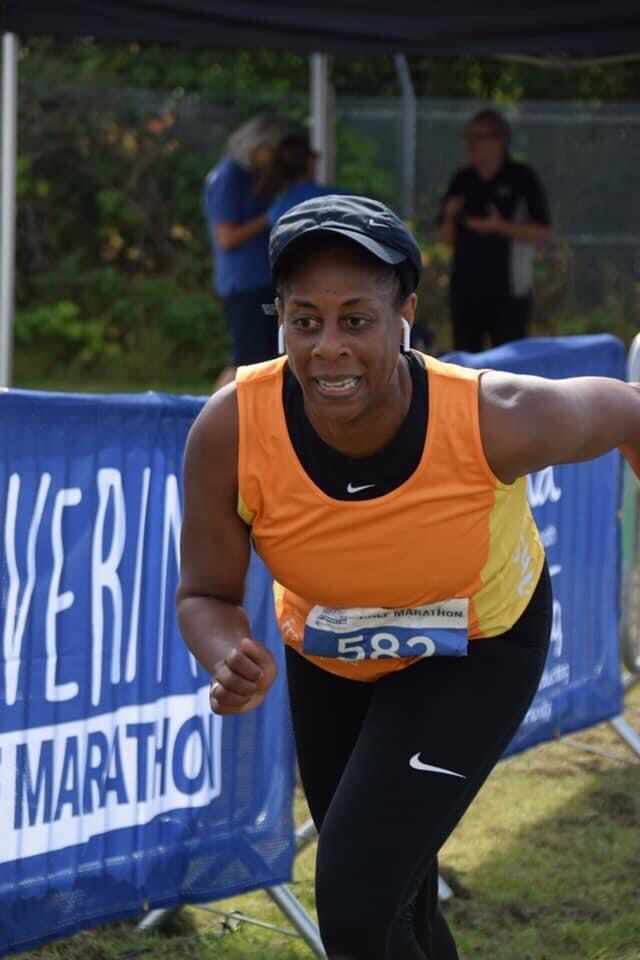 The thing that absolutely blew me away was the response from family and friends. When I shared my fundraising page, it gave people the opportunity to remember Wendy and to share how much they miss her.
It has been a really wonderful lesson; my family and friends are there and want and need to support me and to support Saint Francis Hospice. I had not appreciated how important the fundraising aspect was and their shared belief in me.
It's still not easy, there are times in my life when I am doing something good and the first person I want to call is my sister. Not being able to do that is dreadful.
For me grief is like white-hot coal. It's still unbearable hot but I can now hold on to the memories. I can touch memories in a way I couldn't before.
Support the Hospice
The Hospice only receives a small percentage of government funding, and so relies on the kind donations of supporters like Leonore.

Take part in the Havering Half Marathon on Sunday 11 September and help us raise funds for the people in our care.
You might also be interested in