On your bike
Amanda Green and her family have been fundraising for many years to help local people who need our experienced care. During the first lockdown, the family decided to take action by getting on their bikes!
09-03-2021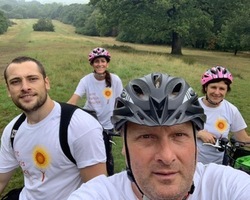 When it comes to fundraising for the Hospice, it's often the simplest of ideas that raise the most cash.

Amanda's plan for her and her family to hop on their bikes was just that. They cycled for 13kms and raised an incredible £1,500 for our patients and their families.

This was their latest effort to support the charity having previously taken part in our events including the Star Walk, Bubble Rush and The Big Orange Quiz. Amanda's son Matt ran the Bristol Half Marathon back in 2017 too.

However, the cancellation of events due to COVID-19 resulting in the Hospice losing so much in fundraising revenue left Amanda wracking her brain to think of something she could do last year to help raise money.

So, having bought a bike in lockdown, when she saw the 'My Prudential Ride London Freecycle' promoted on the Hospice's website, she put it to her husband Stuart, her son Matt and her best friend Jo that they should do a sponsored bike ride in memory of her Mum Salli, who was cared for by the Hospice in 2016.

Amanda and Stuart's daughter Georgia who lives in Bristol also rode 13kms in solidarity!

Salli was 80 years old when she was diagnosed with lung cancer and given only weeks to live.

"I didn't know who to turn to," Amanda recalled.

It was a tour of our Hospice that gave Amanda the answer. Expecting a clinical environment, Amanda and her family were taken aback:

"We all looked at each other and knew that Mum had to leave hospital and come to Saint Francis," Amanda recollected.

"Upon arrival we were made to feel instantly at home. The carers gave Mum a bath and made her comfortable. She looked so refreshed and happy and one of the volunteers brought beans on toast to her room as she said that was what she fancied! Nothing seemed too much trouble and we felt immediately supported."

"Everyone at the Hospice are angels," stated Amanda. "They looked after all of us. I went back to being Mum's daughter again, rather than her carer."

Salli passed away with Amanda at her bedside just 5 weeks after her diagnosis. "The nurse put a rose from the Hospice garden on Mum's pillow after she passed. It was a beautiful ending."
Amanda has some advice for anyone who would like to fundraise for our Hospice:

"Think of something as simple as I did, set up a JustGiving page, and you're good to go. The Hospice is there to support you every step of the way with your fundraising efforts. You don't need it to be part of an organised event either; we left from home, returned to home and cycled our own chosen route.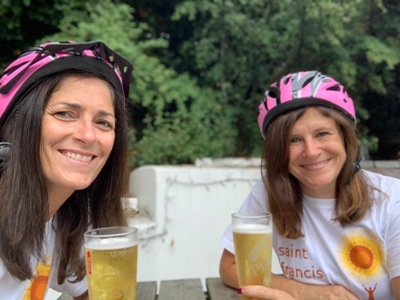 Through fundraising ideas, you can do your bit to ensure that we're always there for people just like Salli.

Feeling inspired? Click here to find out how you can start supporting us today!