Skydive
14th May 2023 | North London Skydive Centre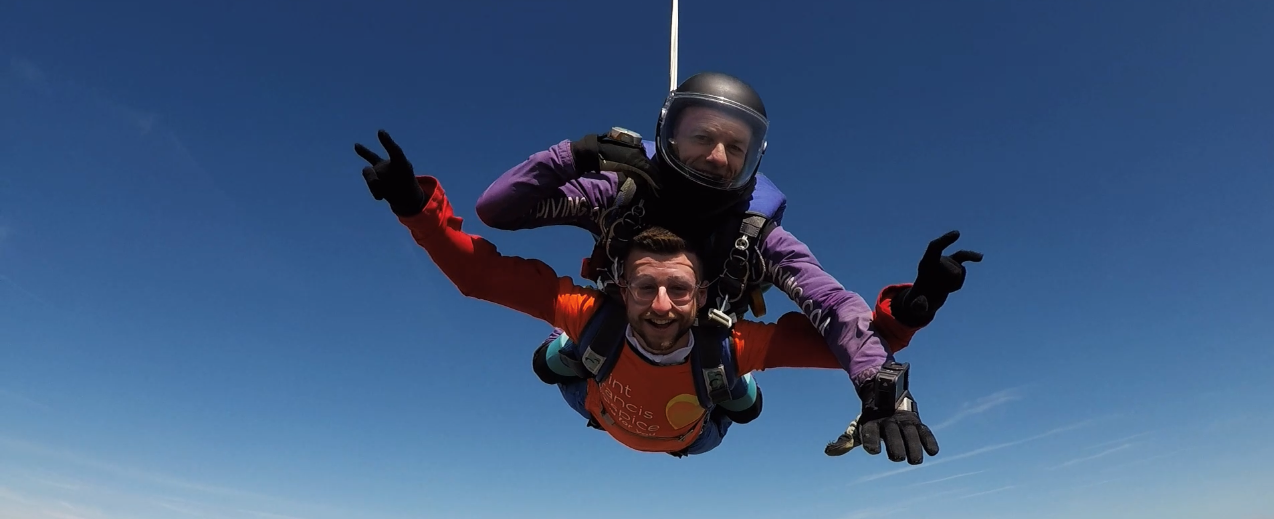 SKY/MAY/23
Take on this exhilarating challenge of a lifetime and jump from heights of up to 10,000 ft to raise vital funds to support local people with life limiting illness!
During this exciting challenge you will freefall for approximately 30 seconds and travel at around 125mph before your tandem instructor will deploy the parachute at around 1 mile above ground.
At this point you can relax for around 5 minutes of tranquillity and take in the breath-taking view as you gently float back to the ground.
All skydives are completed in tandem with a fully qualified skydive instructor who looks after you from start to finish.
Take a 10,000ft leap like Jo did, to raise money for patients like her dad, John.
When John was diagnosed with terminal cancer, the Hospice stepped in to help, making sure he could focus on spending time with his family.
His daughter, Jo, says, "Even though he was dying and it was really sad, I felt blessed that we were able to say a proper goodbye.
"Saint Francis Hospice was fantastic. The services and support we received was unbelievable, the love warmth and care was something else!"
We need you!
Saint Francis Hospice has been greatly impacted by the Coronavirus pandemic and now needs your support more than ever before.
It costs approximately £12m to run Saint Francis Hospice for one year and we receive less than a quarter of this from the NHS. Your donations and sponsorship therefore keep the hospice running and enable us to provide support that the community so desperately needs.
Two crisis clinical nurse specialist visits
A day of care at our Hospice
All hospice services to continue running for one more hour
A £50 non-refundable registration fee is due when booking this event.
By signing up to take part you pledge to raise a minimum of £350.
Of your £350 sponsorship and £50 registration, approximately £220 will come directly to Saint Francis Hospice and £180 will cover the cost of the skydive.
The minimum age for Tandem Skydiving is 16 (ages 16 and 17 will require parental consent). There is no upper age limit.
For safety reasons, the maximum weight limit for Tandem skydiving is strictly 16 stone (102kg) clothed with shoes. However, it should be noted anyone over 15 stone (95kg) clothed with shoes, will be asked to pay an extra £10 to cover the additional work load for the instructor. Reasonable height to weight ratios and levels of fitness also apply which please note, again for safety reasons, are a little more stringent for women weighing over 13 stone (83kg).
Skydiving is a weather dependant activity and there is always the possibility that we may not be able to jump on September 4th (due to factors such as high wind, rain or low cloud).
If we cannot jump on September 4th (due to weather) the jump will be postponed to Sunday 25th September. We highly suggest that you pencil this date into your diary as a potential postponement date.
You might also be interested in
The Forest Row Centre, Collier Row
Mistletoe Market
Our Christmas Market returns, bigger than ever before, at the Forest Row Centre in Collier Row, on Sunday 27 November 2022. Get in the festive spirit while making a real difference to your local Hospice.
Becket Keys Church of England School
Brentwood Half Marathon
Take on the streets of Brentwood and the beautiful surrounding countryside and run the Brentwood Half Marathon on Sunday 12 March 2023.
London to Paris Cycle
Cycling from London to Paris is one of the great cycle experiences in Europe. After passing through picturesque English countryside, we cross the Channel at Dover and continue through the small villages and medieval market towns of Northern France.
North London Skydive Centre
Skydive
Are you after a hair-raising, adrenaline-fuelled challenge? Why not push the boundaries and take to the skies to support your local Hospice?