A Tribute to Dr Peter Kershaw
A dedication to a wonderful man who dedicated his life to service and helping people who were seriously ill.
20-11-2020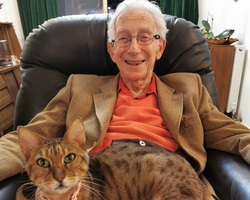 Saint Francis Hospice Medical Director Dr Corinna Midgley has written a tribute to the late Dr Peter Kershaw who died at Queen's Hospital on 29th October after a short illness. Dr Midgley had the privilege of talking with his daughter Christine and the following tribute is the reminiscences they shared of a wonderful man who dedicated his life to service and helping people who were seriously ill. Dr Kershaw understood the need for palliative care and his connection with Saint Francis Hospice goes back to the very beginning when the hospice was a dream that had to be fought for.

Dr Kershaw spent his early medical years abroad. He was in active service during the Korean War, and as a military doctor, he found himself in charge of military hospitals in Japan.
He was influential in the healing and recovery of many, but also saw much suffering, and he cared for people whose real need was for excellent palliative care.
He set up practice as a GP in Hornchurch, but his wartime experiences stayed with him, informing his interests and his practice.
When the local campaign began for a hospice Dr Kershaw joined it. His support as a local GP was hugely influential and encouraging.
Once built, Dr Kershaw provided sessional medical support to Saint Francis Hospice's inpatient unit for many years. He would come, if needed, day or night, with enthusiasm and a smile and without pay. He also used to bring his pet greyhounds up to the hospice, where they were known to chase Matron's cat!

He formed close bonds with his patients and their families, and worked alongside the super ward team. He could be a bit rebellious at times, keen to encourage anything that would promote person centred care: pub meals, betting shop duties, marriages.... the list is long!
Some of the people Dr Kershaw met and cared for in those early hospice days, he never forgot. Great friendships were forged - one particularly special one was with Father Sean Shiels, who provided pastoral care. They shared many a laugh as well as profound moments. Father Shiels became a lifelong friend.
Dr Kershaw brought not only enthusiasm but great knowledge, having spent time learning palliative medicine skills at St Christopher's Hospice with Dame Cicely Saunders and colleagues. His special interests were in good pain control management of total pain, and support for people with brain tumours. He continued to attend conferences, not only at St Christopher's but also abroad; Christine remembers him going to conferences in Canada, Seattle and Germany.
He remained ever interested in the hospice, and attended our Annual General meeting every year up to just 2 years ago, when ill health intervened. By then he was well into his 80s. Some of you will have seen him with Christine at our Light up a Light service last year at St John's Church. I always enjoyed seeing him at the AGMs and was privileged to hear some super stories from his days working here. He came to Dr Richard Beaver and Mrs Barbara Beaver's memorial celebration in 2018, and we managed to sneak in a guided tour of the Inpatient Unit. He was absolutely fascinated.
In his own life, alongside his family he had strong passions - for greyhound racing and Manchester United amongst many other things. In later years his cat Suki was a very special addition to the household: here she is sitting on his knee. He was a great character and part of our roots and we shall miss him.
Dr Kershaw is not having a big funeral but at 8.20am on 4th Dec there will be a 'drive past' his house to the tunes of Glory Glory Hallelujah (for Man United) and Always Look on the Bright Side of Life!
Anyone who knew Dr Kershaw is very welcome to join family and friends on his street to wave and to remember and celebrate his life.
I can't be there myself but Christine knows that I shall be thinking of him very much that day and raising a virtual glass to a fine character and a dear medical colleague.