Beavers raise smiles and funds
Lockdown has been a particularly challenging time for young people, but thinking of others is second nature to the 2nd Squirrel's Heath Beavers who have been getting creative and raising funds to help local people who are seriously ill.
04-02-2021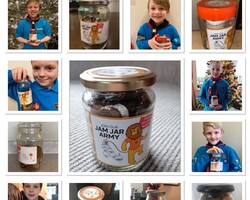 As part of their World Challenge badge, the Beavers have joined Saint Francis Hospice's Jam Jar Army and their pennies have turned into lots of pounds!
They've also been busy beavers -drawing and painting beautiful pictures to put a smile on everyone's face!
"Saint Francis Hospice has always been very close to my heart, both in my personal and professional life, providing support for those I loved and supported," said Charlotte Reed, 2nd Squirrels Heath Beaver Colony Administration Support.
"Scouting has always been about helping others, so when it came down to completing the 'World Challenge' badge, we knew the Hospice was the perfect place to focus our community project on.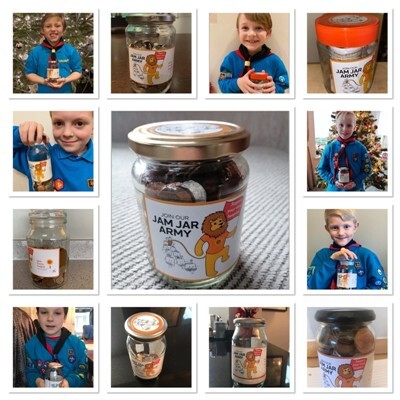 "As leaders, we felt it was important that the children understood the work the Hospice do and why they do it.
"Everyone at some point in their life will be touched by the work of Saint Francis Hospice.

"Thanks to the amazing fundraising team at the Hospice, we joined the Jam Jar army.
"The Beavers were tasked to fill their jam jars by completing house hold tasks, raising money through friends, family and collecting any spare change they had available.
"One of our amazing Beavers has already raised a grand total of £85 in his Jam Jar.
"We even got the leaders involved!
"The 2nd Squirrels Heath Beavers have embraced this challenge as we always do - Even during the toughest times of national lockdowns, we always shine!

"The community project for Saint Francis Hospice is being enjoyed by all the children, they have enjoyed drawing pictures using bright colours, filling their Jam Jars and cannot wait to bring their achievements to the Hospice when it is safe.
"We hope to put a smile on the faces of those in the Hospice, their families and staff with our pictures.

"I feel it's also important to recognise the hard work the leaders have put into this project as well. If it wasn't for them, we wouldn't be here today.
"So a special thanks to John Reed- Group Scout Leader, Charlie Lovegrove- Assistant Beaver Leader and the rest of the Beaver Leadership team."