"I made it to my son's wedding thanks to the Hospice"
Andy was so unwell and in so much pain, he didn't know if he would be able to attend his son's wedding.
12-10-2020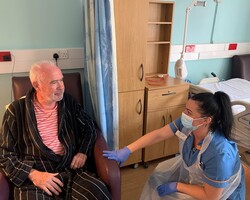 But after a short stay on the ward at Saint Francis Hospice, the medical team were able to get Andy's pain under control and help him manage his condition so he could return home and look forward to the special day.
"Bearing in mind I could hardly walk, was in constant pain, could not face eating and was very weak, there was a 100% difference after a week at the Hospice," said Andy.
Andy was diagnosed with bowel cancer five years ago and underwent an operation to remove part of his bowel.
Unfortunately, the cancer spread to his lungs and after having tried every type of chemotherapy available, he made the decision to stop treatment.
Andy suffered more set-backs this year when he found out he had a tumour on his foot, which made it difficult walk and in August he was admitted to Queen's Hospital. Tests showed the severe back pain he'd been feeling was caused by tumours pressing on the nerves in his spine.
"The day before I was admitted to the ward at Saint Francis Hospice, I had no pain relief that was working and I was in excruciating pain," said Andy.
"The doctors spent a lot of time with me and the care I was given was way beyond my expectation.
"They changed my medication and I started to improve quickly and being in the Hospice bed helped so much with the nerve and muscle pain.
"I can now sleep, my appetite is back and I can now walk a bit.
"Last week I did not think I would be going to the wedding but now I know I will be there."