Lollies for John
John Doherty was 80 years old when he was diagnosed with vascular dementia.
08-09-2020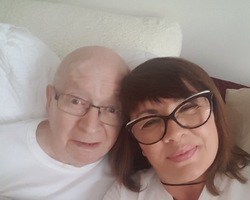 After spending three months in hospital with shingles, John lost mobility and became bed-bound. John's daughter, Nuala, suspected he would need end of life care.
When Nuala's friend suggested that Saint Francis Hospice could assist, Nuala admitted that she didn't think that was possible. She wondered how our Hospice could possibly help when her dad didn't have cancer.
Little did Nuala know that we care for people living with all types of life-limiting illnesses. Nuala was in for a second surprise when she discovered that we could care for patients in their homes, thanks to our Hospice at Home team.
"The minute the Hospice's nurses walked through Mum and Dad's door, my worries seemed to melt away," Nuala remembered.
"They came with amazing ideas. Dad couldn't swallow solid food, so the nurses suggested ice lollies. He loved them. Not only was it fluid, but also flavoured. The cold stimulated his throat. He got his taste back and was smiling once again — something that I once took for granted."
John passed away in January 2020, surrounded by his loved ones at home. He was 88.
"Mum and I could go back to being dad's wife and daughter again — and not just his carers," Nuala recalled. "The nurses brought comfort, care, kindness, and such a calming nature."
Our OrangeLine service is now in regular contact with Nuala and her mum, Brigid, to help them through their grief.
"I had no idea about the incredible aftercare either," Nuala admitted.
The coronavirus pandemic has brought about a devastating loss in funds for our Hospice. For as little as £3 a month, you can do your bit in ensuring our nurses will always be there for people just like John. You can find out how you can make a difference here.