Singing and fundraising during the Pandemic
Lockdown couldn't stop our choir singing and reaching their fundraising milestone of £30,000
25-06-2021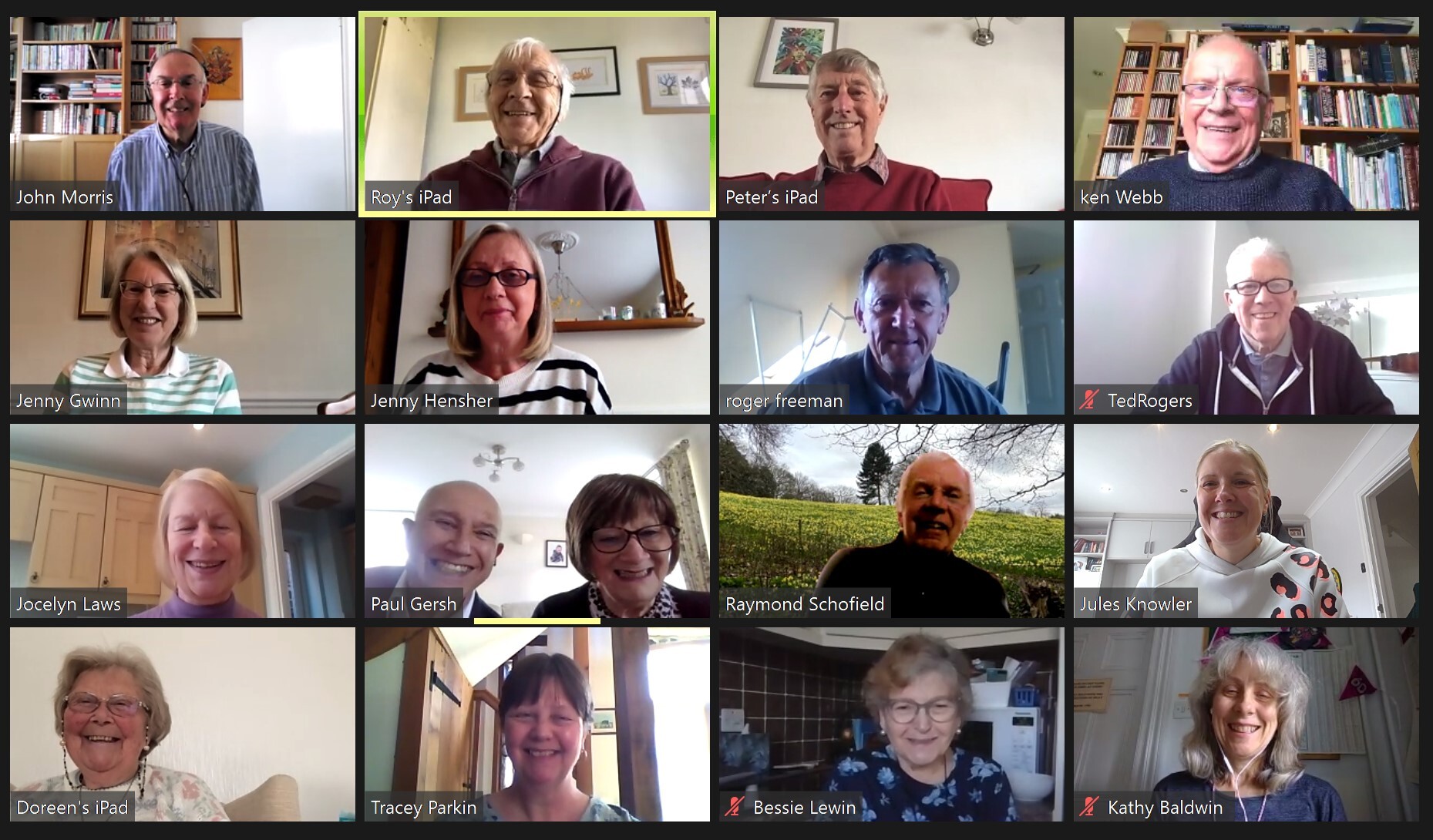 Saint Francis Hospice is incredibly proud to have its very own choir and over the past 9 years it has raised almost £30,000 while entertaining and lifting the spirits of our local community.

Even lockdown didn't stop the choir, which is made up of staff, volunteers and supporters, in their tracks as they found a way to get together to sing and support the charity.

"What a 16-months it has been!" said John Morris, the choir's conductor.

"I managed to keep the choir together in the first instance by making a weekly video which included warm ups and songs that they could sing along with.

"We then decided that a weekly Zoom meeting would be perhaps more practical, as the choir could meet up socially as well as having a sing to keep them going.

"There is certainly a feel-good factor attached to the fact that we have managed to raise that much money to help the Hospice, and it certainly makes all our efforts worthwhile."
An incredible nine years

Over the years the choir has performed at special occasions including the Hospice's annual birthday anniversary service and its Light Up a Life event in December, as well as entertaining patients, families, staff and volunteers in our day services at Pemberton Place and at various fundraising events.

They even enjoyed chart success in 2016 when members of our hospice choir joined forces with 300 fellow singers from 18 London hospices to produce a cover of the 1980s hit The Living Years (originally sung by Mike and the Mechanics).
Adapting to the pandemic

And while they couldn't attend events and fundraise in the usual way, the members continued paying their fees which they then kindly donated.

"As soon as we can return physically, my aim is to reassemble ALL the choir," said John.

"I have been trying to introduce new material throughout lockdown that we will be able to 'brush up' when rehearsing properly and produce a concert as soon as possible.

"To achieve something alone can be satisfying but to achieve something together is a joy!"

We can't wait till life returns to normal and we can have our choir back singing for us all again!
Here's a few words from two of the choir's members who share their experience of being in the choir.
Jocelyn Laws
I joined the SFH choir in 2017, after I retired, although I had made a couple of "guest appearances" at performances when some of the regular members weren't available. On those occasions, I was made to feel welcome so I had no hesitation in joining full time as soon as I could.
Before Covid, when we were able to meet in person - choir practices could be challenging, especially when learning new pieces, but they were always light-hearted and fun and I have really enjoyed the new friendships I've made, as well as the opportunity to sing with a fairly substantial group of people, under the guidance of our inspiring choirmaster, John Morris.

Since lockdown, we have obviously been unable to rehearse together, but the instigation by John of weekly practices over Zoom, although not quite the same, have filled the gap and meant that we can still see fellow choristers, have a chat and keep the vocal wheels oiled.
I'm very much looking forward to the time when we can all sing together again, in the same room!

Roy Janes
Having enjoyed singing in choirs since the age of nine, I discovered in my later years, in 2011, that St Francis Hospice had recently formed a choir and were seeking new members.
I was welcomed and immediately enjoyed both the delightful company and the variety of music.


The quality and success of a choir depends to a large extent on the quality of the leader/conductor and the musical accompanist and we are very well blessed in both respects with John Morris and Ray Schofield.
Some will get their kicks from singing together in a pub; we get our kicks from harmonising beautiful songs at the hospice and performing three or four times a year to entertain and raise funds.
The past eighteen months of the pandemic have prevented us from singing together but John and Ray have kept us in touch with each other through weekly ZOOM sessions, enabling us to keep singing and to feel that we are still together.
Get involved

If you would like to volunteer for the hospice, and become part of our amazing team, click here to find out more.
If you would like to fundraise for the Hospice, click here to get some ideas of ways you can take part.