Dean takes on three challenges in three months
Dean Baker is taking on three fitness challenges in three months after COVID delays events
23-08-2021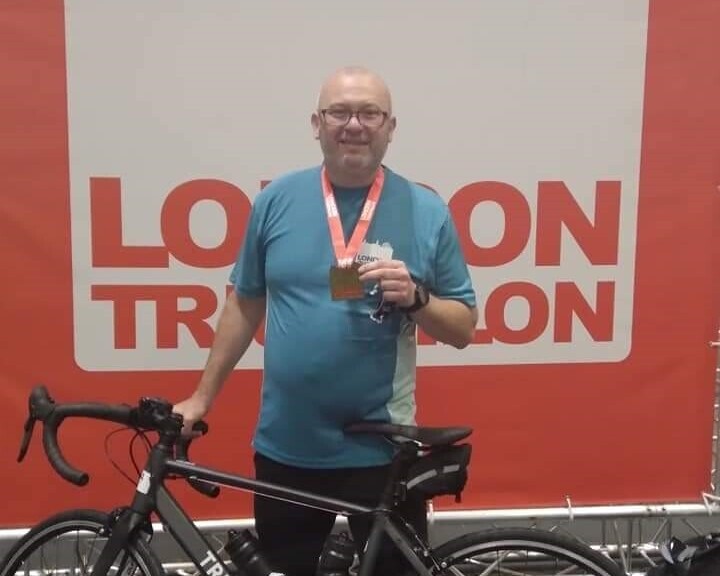 Dean Baker, 45, from Upminster, likes a challenge but he never expected to take on three adrenalin-fuelled events in three months! Here Dean tells us why raising money to help local people who are seriously ill is spurring him to push himself to the limit.

When I signed up for the London Triathlon, the Brighton Marathon and the Chelmsford Half Marathon, there was plenty of time in between the events to train and recover. But the pandemic changed all that with the events being postponed or cancelled.

On Sunday 8th August I completed the London Triathlon. I went for the Olympic Distance (1500m swim, 40km cycle and a 10km run). It was such a great event and it was something very different for me. The atmosphere was brilliant. Everyone had their own challenge. We were all in it together and whether you came first or last, we were all doing it.

My next event is the Brighton Marathon on Sunday 12 September which I should have run in April last year. And my last event will be the Chelmsford Half Marathon on Sunday 3 October.

I set out to raise £1,000 for Saint Francis Hospice and I'm thrilled that I've raised £1,380 so far. The Hospice gives such great care and support to the local community - whether that be at the Hospice or in peoples' homes.
Doing it for my wife and children

The Hospice has had a major impact on our family. The nurses, doctors and all the team at the Hospice took such great care of my wife Lisa when she was on the ward in 2018.

Lisa had a brain tumour and during the last few weeks of her life, the team were amazing and they made her feel comfortable and well.

The charity's family support team has also been there for me and my two children Jack and Grace.

Since then the Hospice has also cared for friends and when I raise money for the Hospice, I know where the money is going and what a difference it is making to peoples' lives.

I will keep on challenging myself. I enjoy keeping fit and taking part in events is good for my mental health as when I am out running, cycling or swimming it takes my mind of any pressures or stress I may be feeling.
Show your support

If you'd like to sponsor Dean, and follow his progress, click here to visit his Just Giving page.
If you'd like to take part in a challenge event, click here to visit our events page
The Havering Half Marathon takes place on Sunday 12 September - sign up here.