Helen goes bling
Helen Burkett is one of 820 volunteers at Saint Francis Hospice. Collectively, they give up 265,000 hours each year and will save our Hospice over £1.5m between this Christmas and next.
15-11-2019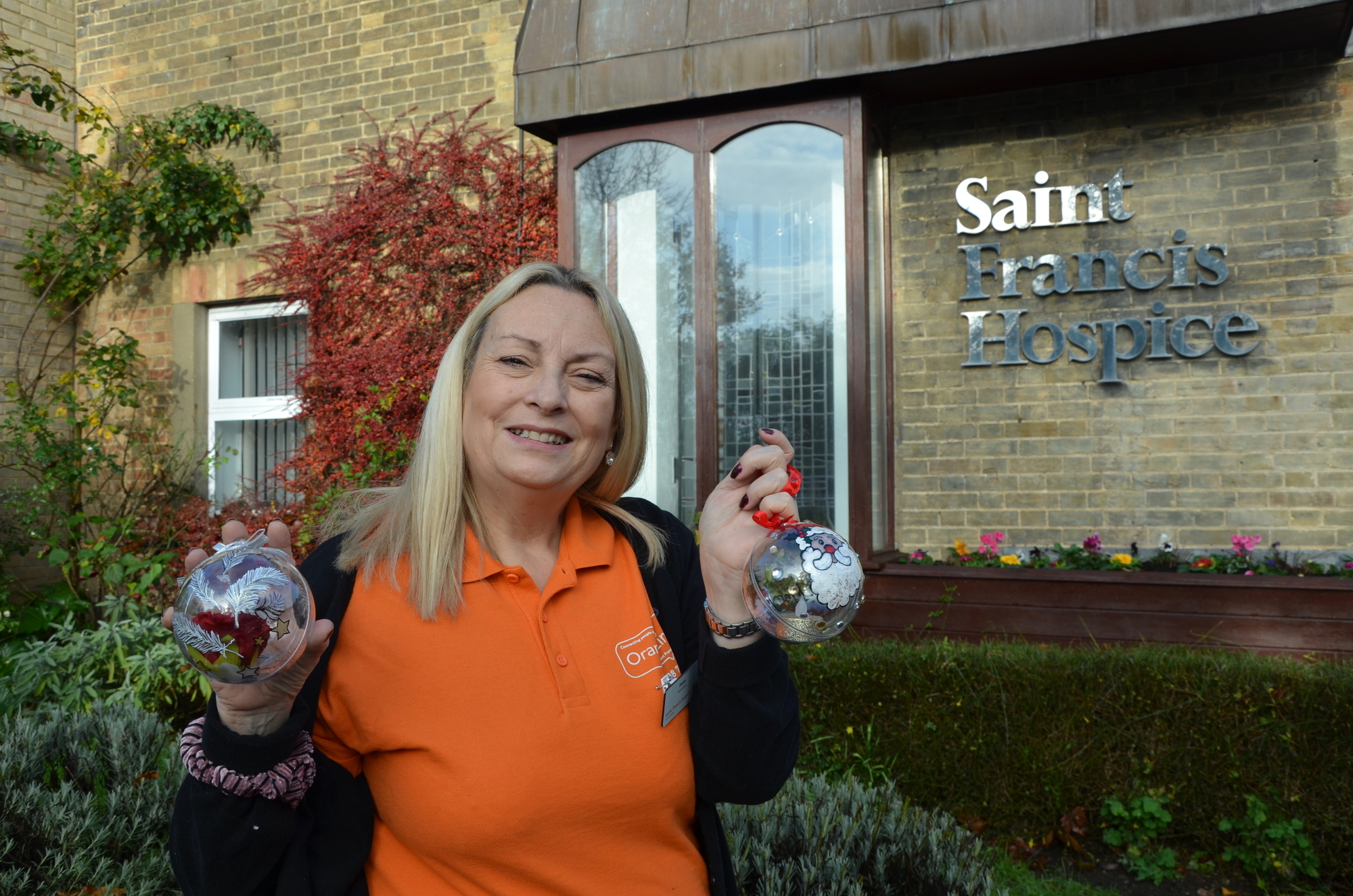 With a 20-year background in counselling children living with extreme behaviours and special needs, Helen has been putting her listening ear to good use at our Hospice since 2017. She volunteers on our helpline for local people: OrangeLine.
OrganeLine is for those who are feeling bereaved, lonely, isolated, or in need of friendly conversation. Along with the rest of the OrangeLine team, Helen helps people make connections, start new friendships, and provides guidance and information.
Helen explained how talking to a stranger when you're feeling blue is often much easier than talking to family, a friend, or a loved one:

"Sometimes, we can't offload to someone close to us through fear of bringing them down. That's why we're here."
OrangeLine is open to people of all ages, and you don't need to have a connection with our Hospice to make the call. Helen also volunteers on our ward, and at our Friendly Faces and Tea & Talk at Toby's social groups for people affected by life-limiting illnesses and bereavement.
Helen's kindness doesn't stop there. She'll be donating and selling Christmas baubles, glasses, and bottles of booze at our Christmas Market all personally given the 'bling' treatment by Helen herself.
If you'd like Helen to personalise and bling-up some baubles, glasses, or bottles for you in advance, then you can email her at
h.burkett@talktalk.net
.
They can be for special occasions such as the arrival of a newborn, a wedding, a first Christmas together, or in memoriam of a loved one who you'll be saving an empty seat for this Christmas.
Look out for Helen at our Christmas Market on 30th November. There will also be Santa in his grotto, the Hospice Choir performing Christmas carols, seasonal warm refreshments, and over 20 stalls adorned with gifts, jewellery, clothes, and toys.
Thank you, Helen!
You can find out more about our Christmas Market here.