Hospice volunteer scoops the rollover!
One of long-serving volunteers, Sylvia Patten, couldn't believe her luck when she won an amazing £4,500 on our Lottery rollover!
26-04-2019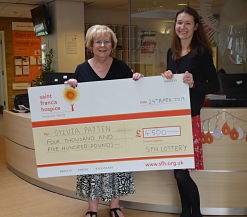 Sylvia, 71, was an IT teacher for 35 years at Havering College and since her retirement, has been volunteering at weekends on our Hospice reception desk. She popped in to see her reception colleagues this week and collect her cheque.
'This is fantastic - thank you so much!' said Sylvia, who lives in Collier Row.
'Since I retired I have loved to travel and I'm planning on putting my winnings towards a cruise for my husband and I in the near future.'
Mrs Patten has played the Saint Francis Hospice Lottery for a number of years as well as volunteering in a number of roles for the Hospice, both on the reception desk and helping support our Volunteer Services Manager.
We're delighted for Sylvia and can't wait to find out where her winnings will take her!
As well as giving supporters the chance to win big each week, our Hospice Lottery helps to fund our vital services in the Community.
You too could be in with a chance of winning if you sign up today. There is a jackpot prize of £1,000 each week and the rollover starts at £500 increasing each week by £500 if it isn't won - up to a maximum of £25,000. You can play from as little as £1 per week.