Julie runs fourth London Marathon for Mum!
"There is no other marathon like the London Marathon," says Julie Buckley.
15-02-2019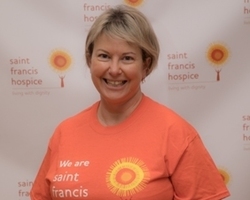 On Sunday, April 28th Julie will be taking part in the iconic 26 mile run around the capital for the fourth time to raise money for the Hospice.
And it will be an emotional experience for Julie as it will mark the second anniversary of the death of her mum Monica Donegan, who was cared for by the charity.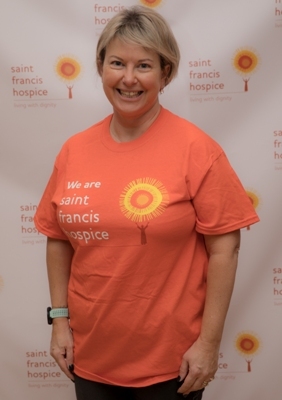 "I was determined to do one more, especially as it coincides with mum's anniversary," said Julie, 53.
"It is such an amazing event and I would not want to do any other marathon now."
Julie has known people who have been cared for by the Hospice over the years but it wasn't until her mum needed its specialist services that she experienced the difference they can make at such a difficult time.
"This was our first experience of hospice care and I cannot recommend it highly enough," said Julie.
"We would have been lost without it."
Monica loved attending the creative therapy sessions at Pemberton Place and was collected from her home every week by a volunteer driver.
She was also supported by the Specialist Crisis and Community Support team.
And Julie still remembers Katy Chelchowska, the Clinical Nurse Specialist who cared for her mum.
"Katy visited my mum at home and at the Hospice and she used to follow up with her on the phone to make sure she was ok," said Julie.
"She sorted out her medication and gave her the confidence to be able to manage her medication.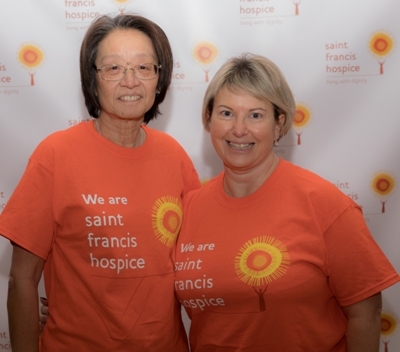 "She was brilliant; she gave my mum a lot of comfort and I know my mum really appreciated her."
Julie and her children received bereavement counselling to help them to cope with their grief - her daughter still receives support from the Family Support Services team.
Julie is one of 17 members of Brentwood Running Club in training for the London Marathon and fundraising is well under way.
Her team at Essex Police, where she works as a communications officer, held a non-uniform day, raffle and cake sale and the Club recently organised a race night.
And she is now inviting people along to her next fundraising event - a bingo night at South Weald Parish Hall on May 10th. Tickets cost £10.
To book your place email Julie at juliebuckley246@btinternet.com
Sponsor Julie by visiting https://bit.ly/2Sz8mmp