Tesco's £15,790 donation is a big help to community!
Tesco prides itself on making a difference to the communities it serves, and staff at its Roneo Corner store have raised an incredible £15,790 for hospice care.
31-01-2019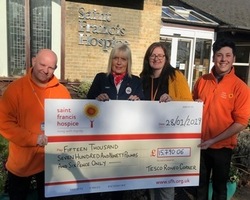 Staff at the Romford store have been huge supporters of the Hospice for many years.
And every month, Lesley Davey, the store's Charity Champion, invites our fundraisers to come in to collect vital funds and speak to customers about its specialist end of life care services.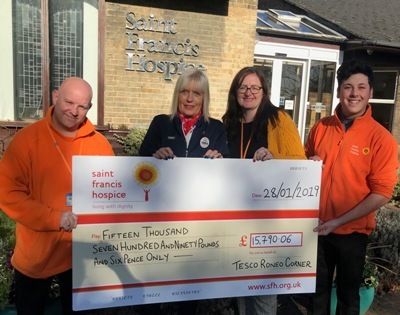 On Monday, January 28th, Lesley visited the Hospice to present the fundraising team with the bumper cheque.
"Every day at the Hospice is a fundraising challenge as we have to raise £21,000 a day to cover the cost of running our specialist end of life care services," said Hospice Fundraiser Michelle Hughes.
"Lesley is incredibly supportive and is always happy to accommodate us in any way she can and if she thinks of something we may be interested in she will always let us know.
"We are extremely grateful for the opportunity she gives us to raise funds and awareness of our services."
The fundraisers are now well known at the store and Lesley said customers often ask when they'll be back!
"So many staff and customers have been affected by cancer and the Hospice is close to everyone's heart," said Lesley.
"If we can help to give the Hospice a fraction of what it needs, we are very happy to support them."