After 3 half marathons Grant Shotter is ready for the 26.2 mile London challenge
Having completed three half marathons since 2016, Grant Shotter has been building up to the London Marathon!
08-03-2019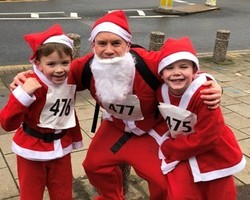 For many years he has been among the crowds cheering on runners as they pass through the capital's streets and on Sunday, April 28 he will get to experience the event himself.
"I remember watching my uncle run the London marathon when I was younger and always thought I would like to be involved," said Grant.
"It also used to pass outside our front door when we lived in Limehouse and I always remember the great atmosphere it generates."
And the marathon is much more than just a personal challenge for Grant, it is also his latest fundraising effort for the Hospice, which cared for his sister-in-law Elizabeth Wenborn before she died.
"I got to know the Hospice when Elizabeth was there in 2015," said Grant, who took part in the charity's 5k Santathon with his sons William and Henry in December.
"Obviously, it was an incredibly difficult period for all of the family and it's great for me to be able to help sustain that level of care by raising money for such a great cause."
Training is going well and he's already completed a half marathon distance.
He's looking forward to race day and has even set himself a target finishing time.
"I'm conscious of advice not to worry about time as this will be my first marathon but I am hoping for something with a 4-hour handle, whether that be 4:59, 4;45 or 4:30," he added.
To sponsor Grant, visit https://bit.ly/2T53fdh