Lake swim raises over £11,000
25th June 2021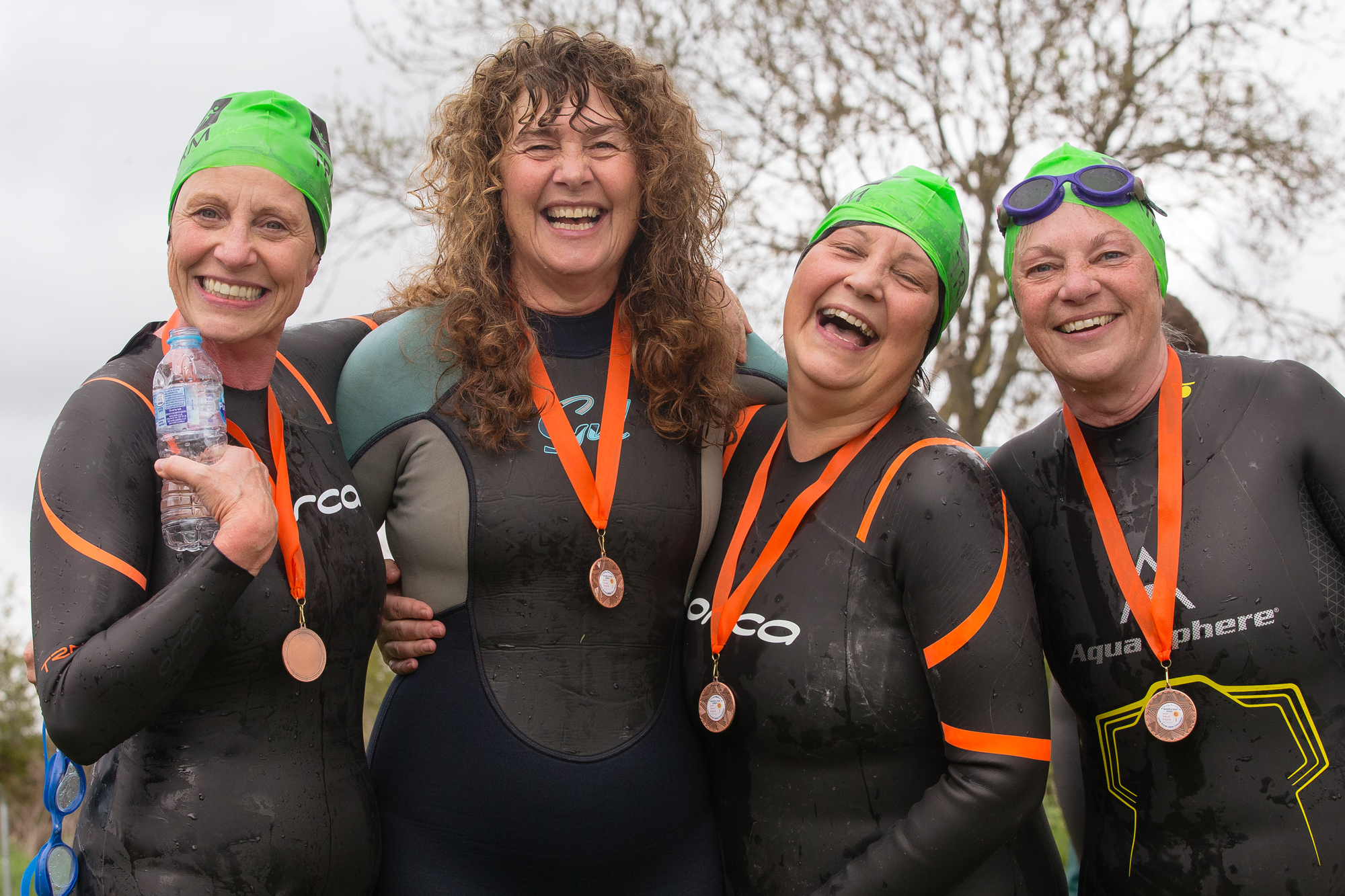 There was laughter and nervous anticipation as family, friends and supporters braved chilly waters to swim around a beautiful lake and raise almost £11,500 for local people who are seriously ill.

Tina Briden, from Romford, organised the exciting swim in memory of her parents Maisie and Stan Burke and to raise vital funds for Saint Francis Hospice after the charity cared for her mum in 2018.

Despite the challenges of lockdown, the event was an incredible success with almost 30 people coming together on Saturday 15th June to swim distances from 400m to 1600m at the Trifarm in Chelmsford!

And everyone who took part was rewarded for their efforts, receiving a medal as they emerged from the water!
A great way to return after lockdown

"The event was an emotional afternoon and we were overwhelmed with all the support we received," said Tina, a former Team GB swimmer.

"It was lovely to see lots of friends and family there who we had not seen properly since before lockdown began.

"It was a wonderful feeling to have everyone coming together to support such an amazing cause.

"I'm particularly proud of all the swimmers who had never before swam in open water, it was a fantastic achievement!

"Some of them have enjoyed it so much that they have decided to continue swimming in open water as a new sport.

"I'm so grateful to all those who travelled from far afield to participate in the swim and those who came to cheer us all on.

"It was also great to see so many hospice staff, not only there to help us out on the day but also to participate in the event!

"And an extra special thank you to all those who generously sponsored our swimmers - the total raised far exceeded our target and these funds will allow the hospice to continue its fantastic work."
In memory of the most wonderful parents

Tina paid tribute to her beloved parents who she described as "the most wonderful parents a girl could ever wish for.

"They inspired with love, support and guidance in all areas of my and my family's life.

"I thank them from the bottom of my heart for all they gave me and our beautiful children Lucy and Alfie, who have worked so hard alongside myself to get this event off the ground and help make it the success it was."

Tina hopes this will be an annual fundraising event. The swim is expected to take place in mid-June 2022 so watch this space for further details!
Special thanks go to the Trifarm for the use of the lake, Tri-n-swim Well for donating all wetsuit hire proceeds and Steve at Trophyland in Hornchurch for supplying the discounted medals.
Challenge yourself
If you would like to challenge yourself, why don't you sign up to one of our fundraising events? Click here to see available dates and find out more.
Sign up to the London Triathlon and run, cycle and swim your way around the capital. Click here to find out more.

You might also be interested in
7th December 2021